9 foods & items you should never put in your microwave, according to AI
Many Kenyans have experienced boiled eggs exploding when heated in a microwave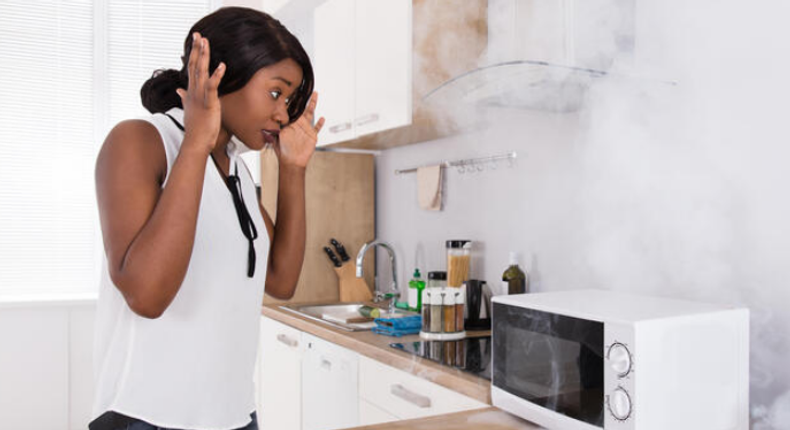 Microwaves have become an essential appliance in our daily lives.
They are quick, convenient, and efficient, making it easy to heat up leftovers, make popcorn, or defrost frozen foods.
However, there are certain things that should never be put in the microwave.
Knowing what to avoid can prevent accidents, damage to the microwave, and even harmful exposure to toxins.
Metals
First and foremost, metal should never go in the microwave. This includes aluminum foil, metal cookware, and even gold or silver accents on plates or bowls. Metal reflects microwaves, which can cause sparks and lead to a fire.
Anything with a metal twist tie or metal handle, such as a takeout container, should be removed before microwaving. The metal can cause sparks and lead to a fire.
Plastics
To check if a dish is microwave-safe, place it in the microwave with a cup of water. Heat for one minute and check the temperature of the dish. If it is cool, it is safe to use in the microwave. If it is warm or hot, it is not microwave-safe.
Styrofoam
Styrofoam containers may seem convenient for reheating leftovers, but they should never be used in the microwave. When heated, they can release toxic chemicals and melt into your food.
ece-auto-gen
Eggs in a shell
Eggs in their shells should never be microwaved, as they can explode and make a mess (and potentially cause injury). If you want to cook eggs in the microwave, be sure to crack them into a microwave-safe dish first.
Certain types of cookware
Cookware with non-microwave-safe coatings or finishes, such as enamel or decorative paint, should also be avoided. These coatings can crack, melt, or release toxic fumes when heated in the microwave.
Certain fuits and vegetables
Fruits and vegetables with thick skins, such as potatoes, apples, and tomatoes, should be pierced or cut before microwaving. Otherwise, the steam buildup can cause them to explode.
Dry pastries
Bread products, such as bagels, muffins, and bread slices, can become tough and rubbery when microwaved. If you want to warm them up, use a toaster or oven instead.
Pulse Live Kenya
Frozen meat
Frozen meat should be defrosted in the refrigerator or under cold running water, not in the microwave. Microwaving meat can cause uneven cooking and potentially harmful bacteria growth.
Sealed containers
Anything with a seal, such as a jar or bottle, should also be opened before microwaving. Otherwise, the pressure buildup can cause it to explode.
JOIN OUR PULSE COMMUNITY!
Recommended articles
These are 5 top signs of fake love in a relationship
6 reasons your nipples hurt
For ladies: 4 reasons why women fall in love
Governor Sakaja, CS Namwamba make pledge for film-makers at Kalasha Film & TV market
For women: 3 common infections you could contract during menstruation, remedies
The African all-female tribe where men are not allowed
5 Ways to keep warm this rainy season
How to deal with your girlfriend's male bestie
Meet the president of Nairobi's exclusive society dubbed 'Women Who Whiskey'
Ferdinand Omanyala storms to 100m world-leading time, makes February history
Report: Erik ten Hag rules out trophy parade if Manchester United win
Ranking Xavi's European exits with Barcelona
Video: Christian Atsu's remains arrive in Ghana
Atsu's body to be brought home for burial - Ghana Embassy
Sad news: Christian Atsu found dead in Turkey
How well do you know your favourite La Liga club?
Messi gives in to Alphonso Davies' demand after 3 years
Why Greenwood could have played his last match for United