Yummy ways to upgrade your Indomie meal
How do you eat your Indomie?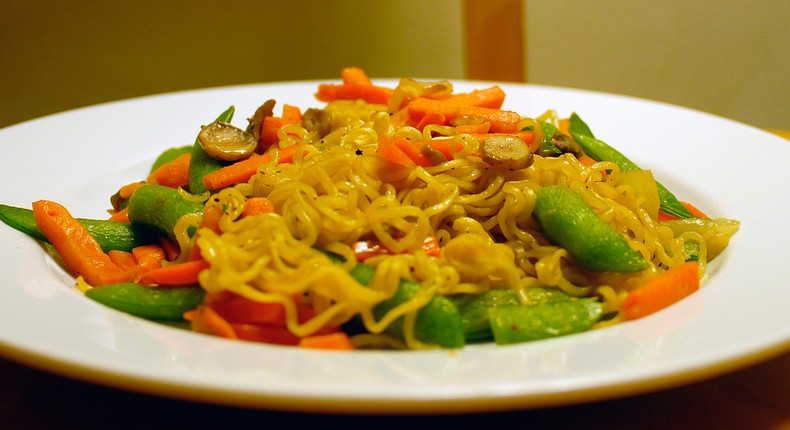 Eh, it's no longer considered as 'campo kids food'. Even grown ass folks eat Indomie because? Price and convenience yo! Plus, if you have kids, you can make them some noodles quickly if they're hungry, before the main meal, especially on weekends when you have many chores. Although, you should not feed noodles to your kids too often because it's said that not only are noodles less in nutrients but also the sauce is not particularly the healthiest thing out there. That said, everything in moderation…So, back to the point of the article; for a majority of the people out there, noodles are meant to be boiled, you add the sauce, strain the water and enjoy the noodles, right? While that's a simple way to eat them, you can also get creative and spruce up your noodles meal by adding some condiments if you have time. Lucky for you, there are so many recipes out there that you can check out but, we will give you ideas on different ways you can enjoy indomie.
You could boil two eggs and add them into your indomie, or fry two eggs then add them into the indomie after you have strained the water. Not only will the eggs make the meal better but will also make it more nutritious.
2. Make a stir fry sauce.
Boil your noodles, strain the water and set them aside, then, make beef or chicken strips, cut some bell peppers, onions, garlic, tomatoes, corn etc, then go ahead and fry the choice of meat alongside the condiments you have prepared. Once the stir fry is ready, add the noodles, mix the meal up and serve.
ece-auto-gen
You know that pasta sauce sold in the super markets? Boil some and pour it over your noodles. You could also make a paste using tomatoes – simply chop a few tomatoes, grate them then heat onions and garlic in a pan and pour in the tomato puree, add some spices and let cook for a few minutes then pour it over the noodles.
4. With bacon and sausages.
Chop up a few pieces of already cooked bacon and sausages then add them into the noodles. Feel free to add cheese...
Pulse Live Kenya
You can buy broth which is in powder form, then make it at home. Instead of eating the noodles with the noodles soup, have them with broth instead for better taste.
ece-auto-gen
Prepare some vegetables such as carrots, tomatoes, broccoli, French beans, baby spinach or even peas. Once the noodles are ready, mix them with your choice of veggies and enjoy the meal.
Pulse Live Kenya
JOIN OUR PULSE COMMUNITY!
Recommended articles
Here are reasons why grooms cry at wedding ceremonies
5 ways to have more mind-blowing sex in your relationship
5 things you should never do to please a woman
Popular Nairobi lawyer Silas Jakakimba weds fiancée in star-studded ceremony [Photos]
What's the craziest thing love has ever made you do? 10 Nigerians share their drunk-in-love stories
5 medical examinations every couple needs before marriage
Different types of customers you will meet when working in customer service [Pulse Contributor's Opinion]
How to successfully shoot your shot [Pulse Contributor's Opinion]
Why won't my ex just stop texting me?