DIY Recipes: How to make Potato bread
Potato bread is essentially wheat bread with a mashed potato worked into the dough.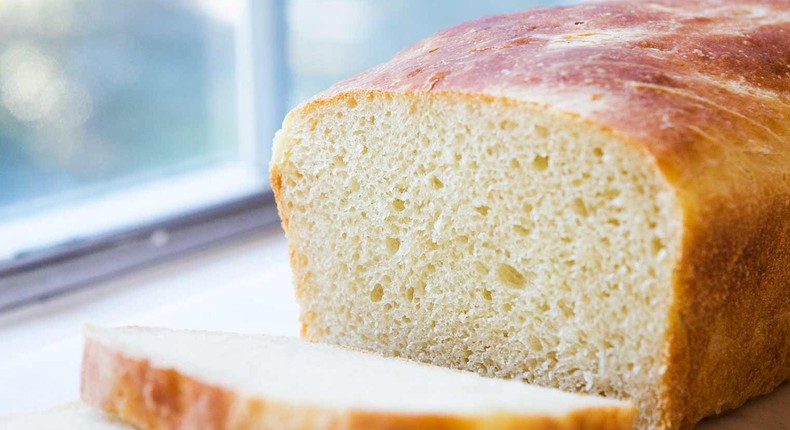 Potato bread has a firm crust and lots of little air pockets.
Pour the warm water and milk (about 110-115 degrees F) into the bowl of a stand mixer.
Sprinkle the yeast over the liquids.
Add the sugar, egg, salt, potatoes, butter and flour.
Use the paddle attachment to mix the ingredients just until combined.
Then switch to the dough hook and beat on medium-high speed for 5-7 minutes. The dough should be slightly sticky.
Spray a large bowl with cooking spray. Place the kneaded dough ball into the greased bowl and cover with plastic wrap or a kitchen towel.
Set the bowl in a warm place until the dough has doubled in size (about 30 minutes).
Divide the dough in two and shape it into two loaves.
Place the dough into two greased 9x5 loaf pans.
Cover the pans and put them in a warm place, allowing the dough to rise again until almost double (about 25 minutes).
Preheat the oven to 350 degrees.
Bake the bread (uncovered) for 30-35 minutes or until the tops are dry and firm, with a golden brown colour.
Remove the bread from the pans and allow them to cool on a wire rack.
Store in an airtight container.
JOIN OUR PULSE COMMUNITY!
Recommended articles
Here's what we know about Kanye's jacket North West wore to Paris Fashion Week
Why crocs are suddenly popular
5 things people don't consider as cheating but actually is
7 weird things men find attractive in women
Rihanna, America's youngest self-made billionaire, is the ultimate beauty boss
Churchill Show comedian Nasra loses unborn baby, pens heartfelt message
Willis Raburu proposes to his expectant girlfriend Ivy Namu [Video]
Kenyan non-mainstream creators treated to 2-day residency at Google
Taylor Swift is reportedly engaged