Dislike the sharp taste of onion? Try this trick
Onion is a root vegetable taste that adds some sort of natural flavour to dish. Unfortunately, most people dislike its sharp taste. Here's how to get rid it while enjoying the flavour.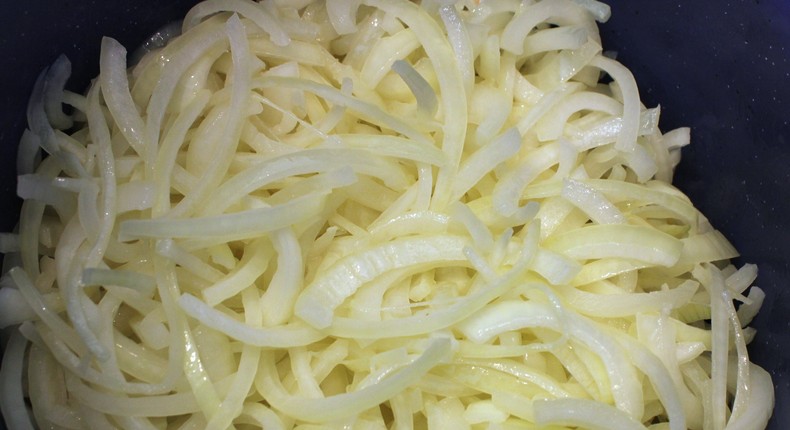 Cooking with onion gives your food some sort of natural flavour that makes it taste sweeter and better.
Unfortunately, a good number of people dislike this natural flavour because of its sharp taste and the onion breath that's associated with onion.
It's even worse when you have to eat them raw, as in the case of salads because you get to feel the sharp and pungent taste even more.
However, rather than getting rid of this delicious flavour, denying yourself the tastiness that comes with onion, just get rid of the sharp taste while you get to enjoy the other benefits of onion.
Here are 2 tricks to help you get rid of the strong pungent taste of onion.
Caramelized onion is simply cooking onion over low heat and the longer they cook, the sweeter.
To caramelize onion, all you need is a few onion, oil, salt and a non-stick pan.
Slice the onion into rings. Place the skillet over low heat and stir in the onion, sprinkle some salt and cook for as long as 1 hour or until the onion is soft and brown.
Caramelized onion is perfect for the start of soups, sauces and every other savoury dish we cook. Once cooked, the onions no longer have such an upfront in-your-face flavour. They blend into the background and create a base for the rest of the flavours in the dish.
You can store the extra caramelized onion in the fridge for subsequent use.
2. Soak the onion in salt water
Slice the onion and put it in a bowl of water. Make sure the water covers the onion rings. Add some salt and leave it for about 5 minutes. The salt water weakens the strength of the sulphur present in the onion which is responsible for the strong sharp taste.
Drain the salt water and rinse the onion with unsalted water.
There you go. Now you can enjoy eating onion in your food.
JOIN OUR PULSE COMMUNITY!
Recommended articles
Here's why sleeping with your phone in bed can affect your health
6 ways to be an amazing boyfriend when your girl is on her period
7 weird things men find attractive in women
9 feminine hygiene tips every girl should know
10 outdated gadgets that will make you nostalgic
Fashion designer Diman Mkare announces expecting first child [Photos]
6 tips to enjoy rest when struggling to slow down
These are 5 top signs of fake love in a relationship
How to Deal With Carpal Tunnel