Warning: How meat from supermarkets is harmful to your health
If your meat tastes a bit sugary, this could be the reason why…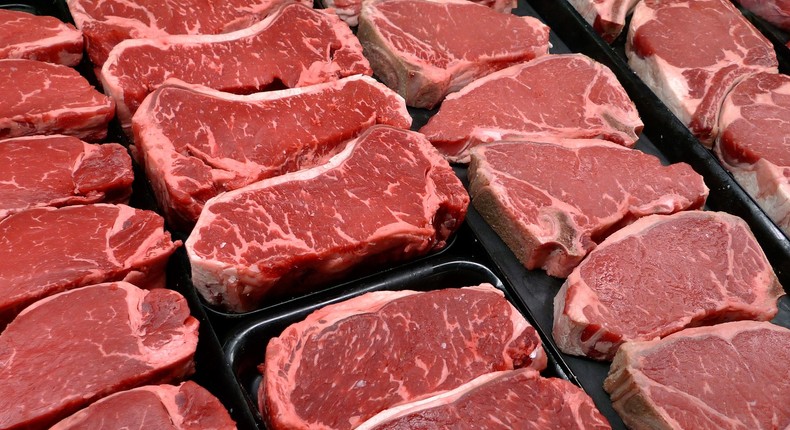 Butcheries and supermarkets in Kenya have been using sulphites – in excess – to preserve meat despite its hazardous nature.
The meat is apparently being preserved for as long as three months and being sold to completely unaware Kenyans who believe that the meat is fresh.
Sodium metabisulphite, is sold in local chemists for Ksh 650 per 500 grams and could lead to serious health complications such as cancer.
The chemical is reportedly being mixed with water and sprayed onto the meat to give it a reddish color to make the meat look like it is fresh but it could actually be meat that could have stayed for up to a month.
Meat that has been preserved with sulphites tends to have a sugary taste.
Fresh meat is however not supposed to contain any form of preservatives.
The standardized preservation methods in Kenya include; salting, deep freezing and smoking non that require the use of harmful chemicals.
Sodium metabisulphate, commonly known as dawa ya nyama, is apparently used during slow meat production months like January.
Foods that contain sodium metabisulphite are required to be labelled if they contain 10 milligrams per kilo of the chemical - this is according to the food standards agency of Australia and New Zealand.
In Kenya however, it was discovered that over 90 milligrams of sodium metabisulphate was found in a kilogram of meat.
Aside from cancer, sulphites can release sulphur dioxide which can worsen asthma symptoms.
Allergies in children and adults is being attributed to the excessive use of colourings and preservatives which contain sulphites.
Other health related effects of sulphites include skin allergies, gastrointestinal complications, diarrhoea and vomiting.
The use of sulphites as a preservative was banned by the US Food and Drug Authority (FDA) in 1986.
JOIN OUR PULSE COMMUNITY!
Recommended articles
3 reasons you should apply lime juice on your face
NTV anchors Ben Kitili & Lofty Matambo promoted to senior roles
15 of the wildest animal specimens I saw hidden underneath one of the world's largest natural history museums
Cucumber: The health benefits of this fruit will leave you speechless
KTN anchor holds dreamy beach wedding ceremony on her birthday [Photos]
Fairytale bride: The 3 dresses Rita Dominic wore on her wedding day in detail
Check out how Rita Dominic and her husband looked at their white wedding
The way of men - How the 1st inaugural men's event went down
DIY Recipes: How to make Sausage salad