Expressing milk could kill your baby
Here are the do's and don'ts of expressing milk for an infant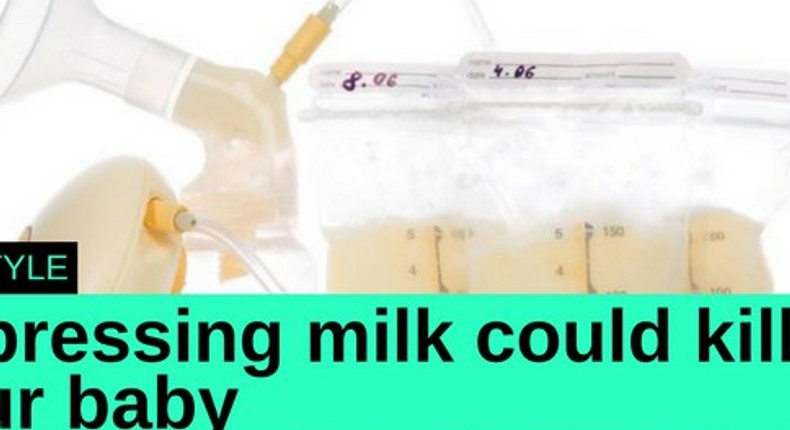 In 2016, a preterm baby contracted an infection from her mothers expressed breast milk.
The infection, Cronobacter sakazakii, developed in the baby when she was just 21 days old. Adding to her already compromised immune system, the premature baby developed meningitis, spastic cerebral palsy, and global developmental delay. By the time she was finishing her antibiotics she had suffered severe brain damage. She lived but she was disabled.
Upon investigation, it was found that the mother's pumps had been contaminated with Chronobacter as they had not been properly handled. The mother confessed to cleaning her pump parts by leaving them to soak in soapy water for a couple of hours then rinsing them without scrubbing. She'd then leave them to air dry and store the parts in a plastic zip-top bag.
Usually, direct breastfeeding is the better option for new borns. This is because the environment and natural make up of the mother's breasts are customized to fit the babies' needs.
However, if you must express for later then here are 9 important RULES as given by Center of Disease Control and Prevention (CDC).
1.    Wash your hands before handling pump parts and milk.
2.    Inspect all parts for wear, residue, and mold, replacing pieces as needed.
3.    Clean all parts immediately after use, either in a dishwasher or by hand in a separate basin used only for infant feeding items. Do NOT place items directly into the sink.
4.    If washing by hand, use soap and hot water, scrub all parts, and allow to air dry on a clean towel. Do NOT use a towel to dry items.
5.    Store dry items in a clean, protected bag or another container.
6.    If clean facilities are not available, duplicate parts are another option.
7.    For full guidelines, visit the CDC's website.
8.    Even the healthiest infants have very new, and easily compromised immune systems.
9.    It may seem like a chore in the moment, but updating your pumping routine means your baby will be served up the cleanest meal possible. After all, breast is best, but safety first.
JOIN OUR PULSE COMMUNITY!
Recommended articles
NTV anchors Ben Kitili & Lofty Matambo promoted to senior roles
Cucumber: The health benefits of this fruit will leave you speechless
KTN anchor holds dreamy beach wedding ceremony on her birthday [Photos]
Fairytale bride: The 3 dresses Rita Dominic wore on her wedding day in detail
Check out how Rita Dominic and her husband looked at their white wedding
The way of men - How the 1st inaugural men's event went down
DIY Recipes: How to make Sausage salad
5 things people don't consider as cheating but actually is
5 foods that help wounds heal faster