The roots and the risks
Yet it was only after the exhibition by Sibanda and Saki that he fully appreciated them as masterpiece design concepts.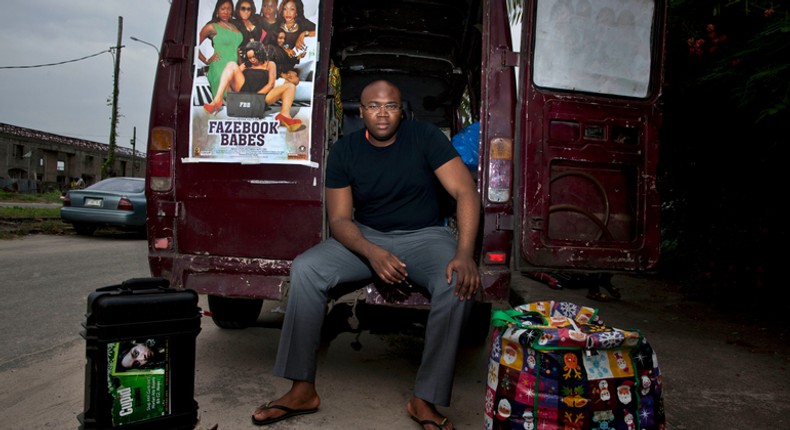 Initially founded in October 2010 as NollywoodLove(now IrokoX), the business started its life as a YouTube channel streaming a bouquet of full-length home videos. It caught on like wildfire.
Within a year it had accumulated more than a million views from over 170 countries, and has been the one-stop shop for most of the Nigerian movies scattered around YouTube ever since. But by creating a streaming platform of its own, iROKOtv has managed to control and monetise its product far more than was possible on a single YouTube channel.
"We have 10,000 video assets on YouTube and still see it as a very strong platform, but not one to build a $500-million media and technology company on," says Njoku. "For that, you need to build your own platform. For that, you need to own your house, own your relationships with viewers, and directly own the means to take payment from them."
"On YouTube," he says, "everything is lost."
In its early days, the cost of business was lower; YouTube was free and Njoku didn't have to sweat to develop content. Before NollywoodLove, local Nigerian outfit iNollywood had also tried to launch local content on the internet, but failed woefully. The company was owned by another popular Nigerian serial entrepreneur, Sim Shagaya.
Shagaya, first CEO and now board chairman of thriving e-commerce company Konga, was primarily interested in acquiring rights for TV shows that were no longer aired on cable TV. At the time (2005), YouTube was in its infancy and the projected cost of streaming technology, powering the servers and other infrastructure around the clock would not have been viable.
Unlike iNollywood, iRokotv's strategy is to focus on movies. In the past, it generated revenue in two ways: from subscriptions for premium content, and through advertising, the regular option for many YouTube channel owners across the globe.
One morning in April 2014, Njoku announced that he was ditching the advertising revenue in favour of the subscription model. It was a risky move, one that attracted comparisons with one of the world's leading streaming services, Netflix, which operates using a similar model.
It was also proof of the company's desire to now target mobile users and generate income from them. While advertising revenue was averaging $0.15 per user per month, it was a far cry from the $6 that an average subscription brings in. So it seemed logical. But while Netflix expanded on being a DVD-rental service, iRokotv was ad-driven from the outset, and a switch could potentially be very risky for the Nigerian startup.
"I am literally betting the entire company and millions of dollars of revenue on a dramatic shift to a paid only model. This is the only future I see," Njoku wrote at the time. Despite having 60% of its subscribers from North America and Europe, Njoku strongly believes that the future of iRokotv is in Africa.
"When I think of iRokoTV, I can only really see Africa and Nigeria as our big markets."
At the start of 2015, Subscribers in Africa represented only 11 percent of the iRokoTV subscriber base. In July 2017, Nigeria became iRokoTv's biggest market in terms of active subscriptions, representing 31% of the subscriber base. This rise in Nigeria-based subscribers can be attributed to iRoko's move to completely remodel its product based on its Nigerian audience's needs. In mid-2015, iRokoTV was redesigned to allow subscribers download data-optimized, DRM-protected content for offline viewing. Many subscribers couldn't afford the data it cost to stream a movie, and download made it easier for them.
"Internet connectivity is improving in Africa as we speak, but it is still very much in its infancy," Njoku says. "I hope to see a significant upsurge in affordable data in the next five years. In the meantime, while we wait for streaming to become easier and cheaper on the continent, we have to look at other means of bringing content to our fans, and one of the ways will be to help make downloads a more viable option for our Africa-based audience."
While diaspora subscribers pay $50 a year, in Nigeria the price is 3,000 naira (less than $10) — more affordable to locals.
JOIN OUR PULSE COMMUNITY!
Recommended articles
5 traditional qualities money has replaced in modern relationships
Is love transactional? - First episode of Pulse LSL premiers [Video]
5 things you can do if you are stuck in a queue for hours
5 reasons you should consider having a court wedding
The perfect nail color to wear when your boyfriend proposes
4 side effects of eating peanuts in excess
Miracle Baby's girlfriend treated to surprise baby shower [Photos]
Badagry Slave Route: Slaves passed these 5 notable stops on their journey of no return
Here's why sleeping with your phone in bed can affect your health