Navy, shiny leather, suits are big trends
Here are the big womenswear trends on the Paris catwalks as the autumn-winter shows end late Tuesday.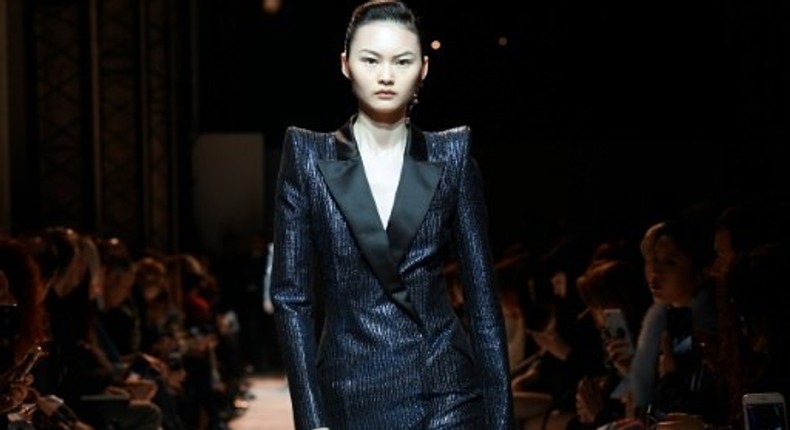 Snazzy mens style suits, lots of shiny leather, hats galore and navy blue...
Here are the big womenswear trends on the Paris catwalks as the autumn-winter shows end late Tuesday:
Just as in New York and Milan, the designers in Paris could not stop themselves from raiding men's wardrobes for ideas.
Everyone from relative newbies Aalto to Celine, Lanvin and Valentin Yudashkin were putting women in natty men's suits, from pinstripes to smoking jackets, with ties also making several appearances.
Mugler's fearsome power suits had turned-up padded shoulders while Stella McCartney's high-waisted tailored country tweeds channelled aristocratic insouciance. Only at Saint Laurent, were you would most expect them, were men's suits absent, save for one cut-off dinner jacket.
Nothing emphasises the new tailored trend more than the abundance of sharply cut shiny leather on the podiums. And as McCartney proved Monday, it no longer has to be the real thing.
But the new, and to some, excessively sexy Saint Laurent wanted skin.
Designer Anthony Vaccarello -- who got into trouble over what some called his "degradingly sexist" ad campaign -- wrapped his 1980s Saint Laurent vamps in tight rippling leather outfits, while Chloe dusted off a brown patent 1970s mini dress that Mary Tyler Moore might have worn in one of her racier moments.
Lanvin, now under the classy Bouchra Jarrar, went for a full patent black suit while Olivier Theyskens chilled and thrilled with a full-length black Gestapo-style leather coat.
Hermes used leather more subtly to shift its new look up a gear, but Y/Project stopped the traffic with a red leather coat and baggy trousers.
If you thought thigh-high boots were a temporary blip of bad taste, think again. They have been around for three seasons now and show no signs of walking.
Pop star-turned-designer Rihanna walked her Puma boots all over the tables of France's national library, and Balmain looked as though a dragon had been skinned for theirs.
But not all were so in-your-face. Celine's were almost understated, as were Alexis Mabille's despite being gold, while Esteban Cortazar's red and white creeper-patterned boots were as subtle as they were sexy.
Dior was categorical, Chanel less emphatic, but a dozen other houses including Lanvin, Celine, Mugler and YohjiYamamoto took blue as their big colour for autumn/winter.
Maria Grazia Chiuri produced an almost monochrome navy blue collection at Dior; Guillaume Henry at Nina Ricci mixed blue and black for a retro sensuality; and Vaccarello at Saint Laurent went for shiny wrapping-paper blue.
Paris has fallen head over heels for hats. This week has seen an unprecedented sprouting of headwear on the runways, from turbans to Dior's Black Panther leather berets.
The American iconoclast Rick Owens created a whole gallery of mitres, crowns and veils for the "contemporary ceremonial" of his show, making alien burqa creations from sweatshirt sleeves.
And caps were doffed to Jacquemus for its stylish riff on vaguely Spanish black felt headgear, from jaunty bicorne Picasso monteras to stovepipe 1950s numbers.
Japanese label Undercover, however, topped everyone with a procession of wild plumed fascinators.
With life on Earth looking increasingly bleak, Chanel rocketed us off to the Moon in its space-themed show, while Indian designer Manish Arora's joyous collection promised nothing less than "cosmic love" with "heavenly bodies aligning in glittering galaxies".
His Saturn handbags and shooting star and sunburst belts bedazzled the front row.
Dior too found room for astrological embroidery in its far more austere show, while Issay Miyake embraced the Aurora Borealis.
JOIN OUR PULSE COMMUNITY!
Recommended articles
Why Amazonian men willingly father children who are not biologically theirs
Since bed bugs are currently taking over Paris, how deadly are they?
Who rocked it better? Ilebaye Odiniya or Yara Shahidi?
OctobaFest Kisumu edition: A harmonious fusion of music, fun, & economic boost
5 lies every girl has told her boyfriend before
When women don't wash their bras often, these 5 things happen
3 easy ways you can increase your daily protein intake
It's dangerous to rest your legs on a car's dashboard, here's why
Vinka goes shooting: 5 benefits of shooting at a gun range