Rare twin elephant calves born in Samburu
One calf is female and the other is male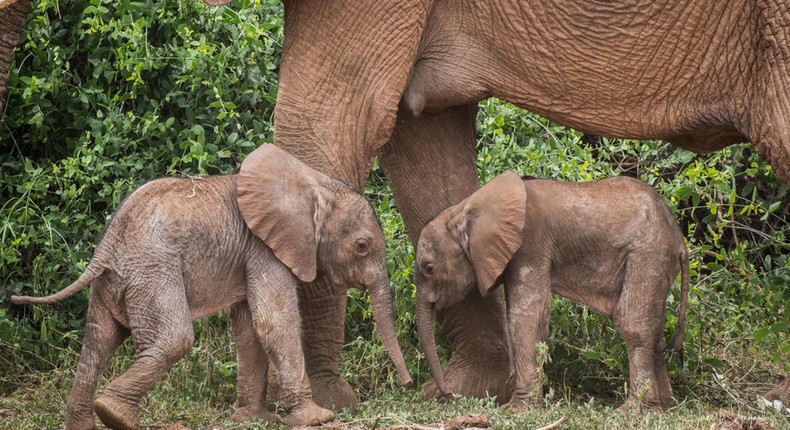 An elephant has given birth to twins for the first time in nearly 15 years in Kenya, wildlife authorities confirmed.
The twin calves, spotted in Samburu National Park, are just a few days old.
Female elephants have the longest gestation period of all mammals which lasts as long as 23 months, almost 2 years.
Of the live births among elephants, twins account for only 1%, a mother does not usually have enough milk for two calves.
Typically, they only give birth to one calf at a time, but throughout their whole lives, they can give birth to as many as 12 calves.
The birth of the twins, one male and one female, came as a surprise to research and protection organisation Save the Elephants, which monitors the family of elephants in the park.
There has been a surge in elephant populations in Kenya, according to the the first ever wildlife census carried out last year.
The numbers have increased since Kenya cracked down on illegal poaching in its fight to conserve vital wildlife. As of September 2021, Kenya was a home to a total of 36,280 endangered elephants.
Calves weigh about 113 kilograms at birth and stand about three feet tall. Calves can't see very well at first, but they can recognize their mothers by touch, scent, and sound.
Baby elephants stay very close to their mothers for the first couple of months. The calves drink their mother's milk for about two years, sometimes longer.
They can drink up to 13 litres of milk a day and at about four months old, they also begin eating some plants like adult elephants. But they continue to need as much milk from their mother. They keep drinking milk for up to ten years!
JOIN OUR PULSE COMMUNITY!
Recommended articles
Governor Sakaja, CS Namwmaba make pledge for film-makers at Kalasha Film & TV market
For women: 3 common infections you could contract during menstruation, remedies
The African all-female tribe where men are not allowed
5 Ways to keep warm this rainy season
How to deal with your girlfriend's male bestie
Meet the president of Nairobi's exclusive society dubbed 'Women Who Whiskey'
Signs that say you're a lady in the streets, freak in the sheets
How Folk Fusion's Rain Dance Edition went down [Videos]
Arts Center Kibera: Unleashing creative potential of Kenyan youth
Ferdinand Omanyala storms to 100m world-leading time, makes February history
Report: Erik ten Hag rules out trophy parade if Manchester United win
Ranking Xavi's European exits with Barcelona
Video: Christian Atsu's remains arrive in Ghana
Atsu's body to be brought home for burial - Ghana Embassy
Sad news: Christian Atsu found dead in Turkey
How well do you know your favourite La Liga club?
Messi gives in to Alphonso Davies' demand after 3 years
Why Greenwood could have played his last match for United