If you aren't studying the Word every single day, you are in trouble!
Stop looking for love, respect, peace, joy, self worth in all the wrong places, and just start reading the Word.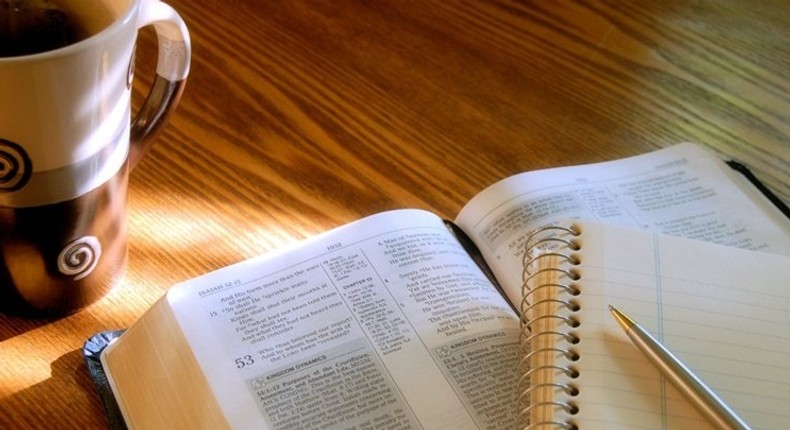 The Bible is an interesting Book that means many things to different people.
For some, it is a special book that should only be opened on Sundays.  For others, it gets a visit every once in a while, and there are some people that have only read it once in their entire lives.
I am not here to judge you. I just want you to know that regardless of where you stand, you NEED to start studying it every single day of every year.
'What???', I can hear someone scream. To that, I say, 'calm down', just keep reading and you will see why everyone needs to not just read but love studying the Bible daily.
Before I do so, let's take a brief detour to Genesis.
This part of the Bible tells us that once upon a time, the World was perfect. Adam and Eve lived in the Garden of Eden without issues, evil or sin.
Then, the serpent came into the story and things changed. Because of this, we now live in an imperfect world where everything conspires against you.
Social media makes you feel like you aren't beautiful enough, aren't doing well enough. You might even have people in your life that mess with your self-esteem.
For others, your sense of worth might be tied to a job that constantly makes you feel like trash. The point is that everyone needs help and this is where the Bible comes.
I know it might seem intimidating at times but the Bible is really God's gift to His creation.
One of my friends describes it as "a will" because it lets you know what you have been given, what your inheritance is.
For me, it is simply a Book filled with love, peace, contentment and everything that is good.
In it, you are reminded that you are wonderfully and beautifully made, your life was planned way before your parents met each other so you have a purpose.
You are also reminded of God's love for you, you get to see that He has good thoughts concerning you and your life in Him is so amazing that you don't need to be envious of anyone.
In it, you are told many times to stop worrying because God's got your back, you are told not to be afraid, to be fearless.
Every time you open you are confronted with the truth, which is simply God's opinion on anything, as Priscilla Shirer puts it.
So, when people try to tear you down and make you feel worthless, you have the Bible to tell you otherwise. When you feel unloved, you are reminded that you are loved by the One who made the Heavens and the earth.
Simply put, the Bible gives you all the armour you need in a world that is designed to destroy you (Hebrews 4:12).
Joyce Meyer puts it perfectly. In her words, "there is no problem that the Word of God cannot fix."
NOTE: You can't just read it like every book, it just won't work. You have to study it, with the help of the Holy Spirit.
You have to set some time apart from the noise around us, and just spend time letting His word heal, motivate, and encourage you.
I hope with these few points of mine, I have been able to convince you to study the Bible not once a week when you go to church but every single day.
Trust me, your life will be the better for it.
JOIN OUR PULSE COMMUNITY!
Recommended articles
Nation Media Group announces mass layoff of staff
NTV anchors Ben Kitili & Lofty Matambo promoted to senior roles
Cucumber: The health benefits of this fruit will leave you speechless
KTN anchor holds dreamy beach wedding ceremony on her birthday [Photos]
Fairytale bride: The 3 dresses Rita Dominic wore on her wedding day in detail
Check out how Rita Dominic and her husband looked at their white wedding
The way of men - How the 1st inaugural men's event went down
DIY Recipes: How to make Sausage salad
5 things people don't consider as cheating but actually is