Actor Blessing 'Madiba' Lung'aho proposes to Jackie Matubia [Video]
Madiba proposed during his birthday party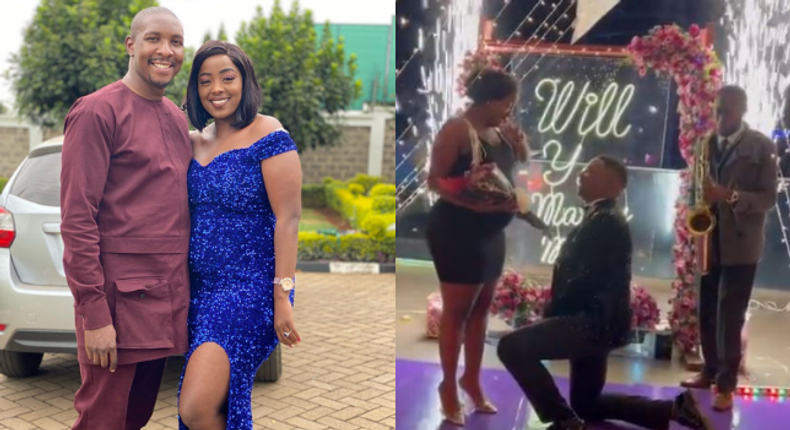 Kenyan actor Blessing Lungaho popularly known as Madiba has proposed to his girlfriend and fellow actor Jackie Matubia and it's a big yes.
The news of Ms Matubia and Lungaho's engagement was made public by their close friends 'The Macharias' (Terence Creative and Milly Chebby).
Videos shared on Instagram, captures Madiba going down on his knee to pop the big question, as an overjoyed Matubia receives the engagement ring with lots of excitement.
Later, an excited Matubia said; "He proposed and I said Yes! I can't wait to spend the rest of my life laughing and loving you always!".
Actor Blessing 'Madiba' Lughaho proposes to Jackie Matubia [Video]
YouTuber Milly Chebby congratulated the two love birds with a message that reads; "Uuuwwwwuuuuiiiiii kujeni huku my sister said Yeeeeessssss awwwww congratulations @jmatubia I am sooooo happy for you 💜@blessinglungaho thanks for loving her right. I told you guys in his own time he makes everything beautiful ❤️❤️❤️❤️❤. Congratulations to you the blessings,".
Terence Creative added; "Mapenzi wewe ❤️❤️❤️wow congratulations @blessinglungaho on your proposal 💍 and happy birthday to you ❤️❤️❤️❤️❤️❤️ @jmatubia,".
The Maria actor proposed to Matubia at a time he was celebrating life after turning a year older.
"Help me wish this gentleman! A happy happy birthday… @blessinglungaho May God's favor continue to follow you and good health and wealth… ❤️❤️❤️," reads Matubia's message to Madiba on his Birthday.
The actor had also jot down a beautiful note to himself.
"It's the anniversary of the day my mother gave birth to the gentleman in @zannetti_gentlemen Im celebrating her today because she did all the work on that date & I just showed up crying. So here's to another trip round the Sun.Thanks mom!," he wrote.
Actor Blessing 'Madiba' Lughaho proposes to Jackie Matubia [Video] Pulse Live Kenya
Celebrities and fans also congratulated Matubia and Lughaho in large numbers following their engagement.
Millywajesus "Congratulations to the lovely couple 😍"
nycewanjeri "Congratulations to you great people.... To love 🥂🥂"
valekibet "Congrats to them may God bless their union🙏🙏🙏"
skylergreeey "Aki am crying with her 😢congratulations Jackie 👏👏👏👏God's grace is so sufficient 🙏🙏💪🏻💪🏻😍"
Actor Blessing 'Madiba' Lughaho proposes to Jackie Matubia [Video] Pulse Live Kenya
Jackie Matubia confirms dating actor Blessing 'Madiba' Lungaho
On February 14, 2022, Ms Matubia shared a video, introducing Lungaho as her baby daddy to be - after keeping it under wraps for some time.
The two love birds are expecting a baby together.
JOIN OUR PULSE COMMUNITY!
Recommended articles
If you feel insecure about your boobs, read this
Why guests had to squeeze between 2 naked models to enter an art show
Cardi B fawns over husband Offset on their 6th wedding anniversary
Dear Pastor Dr Dorcas Rigathi, you can be the voice [An Open Letter]
5 not-so-obvious signs you're a horrible boss and employees probably hate you
Why you should dump friends who crack 'jokes' that make you uncomfortable
It's harder to get pregnant during these three months - Research
MoH recalls paracetamol solution from shelves: What you need to know
Everything you should know before eating edible gold