13 types of Kenyan couples we all know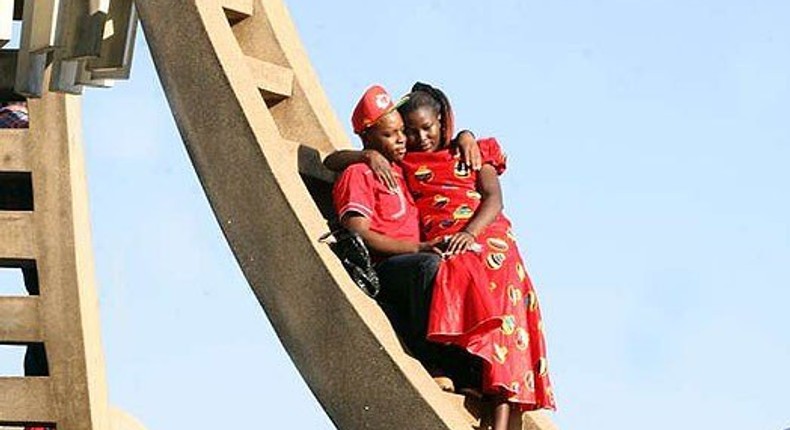 Let's talk about the different types of couples you will find in Kenya.
Some couples make you feel like being in love, if you're single and others make you wanna vomit thanks to displaying their love in public like they're the first ones to ever be in love. Here are types of couples we all know.
This is that average middle class couple. They are not legally married but are in a come-we-stay partnership. They live in an estate like Umoja and have a kid (probably called Junior lol). They seem to be in love and don't need much to be happy. On Sundays they go to church, pass by a Chicken Inn in a mall, Junior gets his face painted and enjoys himself on the bouncing castle and they head back home. This couple is content and happy with the little they have.
2. The on and off couple.
Always on the fucking fence. You even lost count of the number of times they have broken up.
3. The social media couple.
They post everything online. Every time you see them on your timeline you wanna block them. They will post all their pictures, comment lovely dovey shit on each other's photos and act so much in love but chances are, behind closed doors, things are far from rosy. It's always said that the first sign of a thriving relationship is when there's no or little evidence on social media. But hey, knock yourselves out Facebook couple.
4. The wanderlust couple.
They tick their bucket lists together and we can't help but admire. They love to explore new places and are into adventure a lot.
5. The interracial couple.
Skinny girl with an older or young white man and a mixed baby. She has a bald head, dreads or a long ass weave. They seem to be in love, take their summer and winter holidays abroad and live in the affluent neighborhoods of Nairobi.
6. The "we met not so long ago" but things are moving pretty fast couple.
These are the Maribe and Jowis out there. 6 months and boom, already engaged, moved in together and baby on the way. You wonder what the rush is but they always have the "If you know you know…" answer. However, these couples rarely make it past two years. Bottom line is, you need to know what you're getting yourself into. I always say that if you're gonna wake up to the same face for the rest of your life, it better be worth it. Ama namna gani?
Always fighting, always being cheated on. The guy probably drinks like a fish. He's irresponsible. A wife batterer, user and abuser. But the girl stays, apparently, for the sake of the kids, or some other excuse...
8. The mismatched couple.
You get to learn that they're a couple and wonder "You? And him? How!!!!?". This is mostly when the guy is old, ugly and loaded and dating a younger beautiful girl. But hey, anything for that good life huh? This also happens when you meet couples who just love each other regardless. Like a really handsome man falling for an average Jane or an ugly average nigga who scored a shorty who's a ten and you can't help but wonder what miracle the Lord had to perform for that to happen.
ece-auto-gen
The celebrity or politican couple that appears to be goals for the sake of the prying eyes of the public but behind closed doors it's probably Hiroshima, ask Ababu Namwamba…
10. The long-distance couple.
This is the couple that's trying to make their long-distance love survive. They will take breaks to video chat and have cute little moments but we all know that one of them if not both of them are cheating. We always wish them well though.
11. The high school sweethearts.
They met way back when and have been in love ever since. They have probably never had sex with anyone else but each other. It's cute. Almost too good to be true, but it is. These ones will probably grow old together. This is the perfect couple that seems to have figured out this whole marriage thing and we all want a love like theirs.
ece-auto-gen
They're like 22 years old but already have a kid, live in a simple single room, have a small business, like running a kiosk and live a simple but fulfilling life. They're really responsible and mature for their age and when spoilt Nairobi kids go to shags for Christmas, they can't understand how at 22, someone is already a father and businessman.
When a sponyo gets hitched, basically. The dude has been married before. He's rich but he now wants to spend his money and retirement years with a ripe and young girl. They get judged a lot but they don't care, after all, it's better to cry in a Mercedes than be happy at the back of a bicycle no?
JOIN OUR PULSE COMMUNITY!
Recommended articles
5 traditional qualities money has replaced in modern relationships
Is love transactional? - First episode of Pulse LSL premiers [Video]
5 things you can do if you are stuck in a queue for hours
5 reasons you should consider having a court wedding
The perfect nail color to wear when your boyfriend proposes
4 side effects of eating peanuts in excess
Miracle Baby's girlfriend treated to surprise baby shower [Photos]
Badagry Slave Route: Slaves passed these 5 notable stops on their journey of no return
Here's why sleeping with your phone in bed can affect your health