Every beautiful thing to know about having beach nuptials
A Nigerian beach wedding is possible, absolutely doable, and totally worth considering.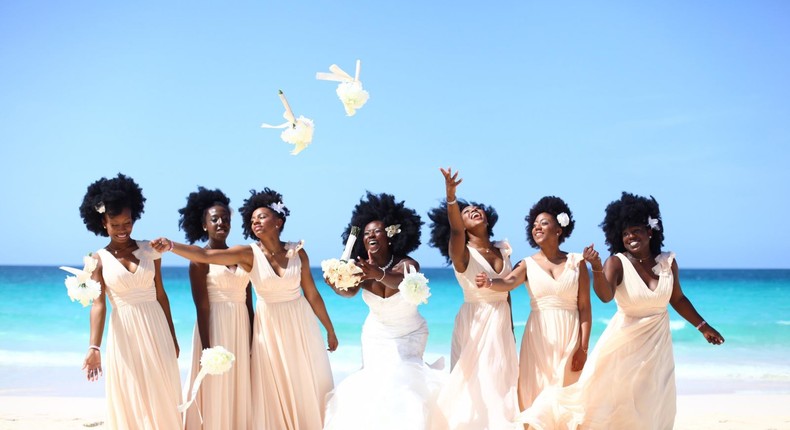 When you think about weddings as a Nigerian, what comes to your mind?
We'll bet you think in lines of a court date, a traditional ceremony, and to crown it all, a religious ceremony held in a huge chapel with bells chiming and organs playing.
You imagine the bride dressed in lily white dress and a groom looking absolutely dashing, right?
Or yet a totally beautiful Nikkai ceremony.
But how about wedding at…. the beach?!
Tying the knot with the love of your life at the beach is possible, absolutely doable, and totally worth considering, especially if you are tired of the norm and want something different which won't take anything away from the class and elegance of the day!
Pulse Weddings reached out to planning expert, Queen N. Ohamara of Qmaravie Planners, an event planning outfit in Abuja who put together among many others, this brilliant wedding we reported here.
She has the following expert tips to give:
Ohamara says if you are looking to have a beach wedding without losing the religious angle, no qualms!
"People can get religious leaders to [officiate] the ceremony right there, you don't necessarily need to have them in separate locations. It saves time," she advises.
The best season to have a beach wedding will, of course be when there is a chance that the ceremony won't be disturbed by rain as it makes more sense to have it out in the open instead of setting up tents and all.
When you think of a beach wedding, an "evening reception [at a private beach] is the best way to go, when It isn't sunny anymore."
The advantages of this are various. First you also get to see the sun set, which is pretty romantic if the fun of the party lasts till then.
You could also incorporate wish lanterns and fire works for effects. This goes whether the night is star-lit or not.
Beach weddings could be quite large but if you make it strictly by invitation and set a modest guest list that can be catered for without crowding up the place.
The planner says, however, that to achieve the best result, you might want to think of doing an intimate ceremony.
"Intimate is better because at the beach the ambience is relaxed and you want to spend it with a few close family and friends."
A dress without a train is pretty logical, and according to wedding site, The Knot, it is better to opt for light, airy fabrics such as chiffon and silk.
Be sure to let your dress designer know it's a beach wedding so something perfect can be crafted to suit the occasion.
Flats are perfect by the way. High heels and sand don't mix.
Let your guests know they are coming for a beach wedding and nudge them towards dressing accordingly – simple sundresses, floaty chiffons, pretty printed dresses in bright, tropical colours will do for the ladies and the guys can come in their light pants and beachy shirts.
It's not as expensive as Aso Ebi, but just as classy and cool if done right.
"Beaches are beautiful sites," Ohamara says. Wedding at the beach is "inexpensive" and you get to take the most breathtaking, "amazing photos," she adds.
Things might get a bit too windy and turn cold later in the evening / early night [a bonfire is a beautiful way to solve this].
The weather could be a bit unpredictable [plan for the dry/harmattan season when rain is pretty low], and too much sand could be an issue, according to Ohamara.
Wear flats or completely ditch your shoes and that's settled. Get your feet in the sand and have fun!
Another disadvantage could be the unavailability of beaches in all parts of the country but really, that's just your cue to get yourself, your boo and guests to a beach somewhere far from home.
It's a destination beach wedding, baby! Makes it even better!
JOIN OUR PULSE COMMUNITY!
Recommended articles
NTV anchors Ben Kitili & Lofty Matambo promoted to senior roles
15 of the wildest animal specimens I saw hidden underneath one of the world's largest natural history museums
Cucumber: The health benefits of this fruit will leave you speechless
KTN anchor holds dreamy beach wedding ceremony on her birthday [Photos]
Fairytale bride: The 3 dresses Rita Dominic wore on her wedding day in detail
Check out how Rita Dominic and her husband looked at their white wedding
The way of men - How the 1st inaugural men's event went down
DIY Recipes: How to make Sausage salad
5 things people don't consider as cheating but actually is