Sarah Kabu opens up on family struggles after near separation with husband
Sarah said she was yet to get an apology from her step daughter who had made away with her children when they almost separated with husband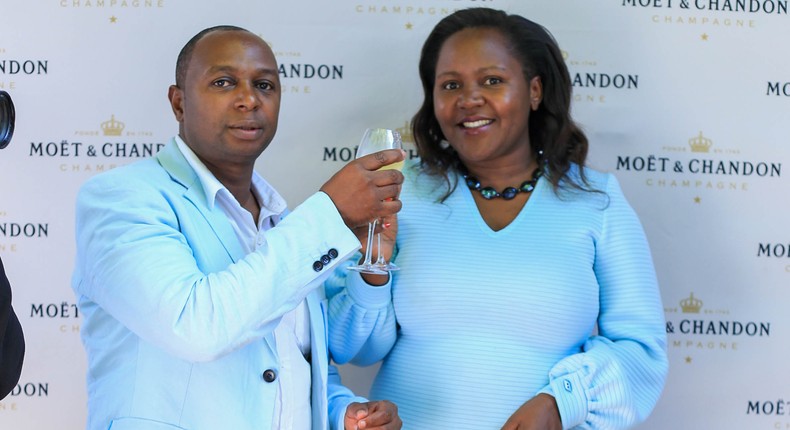 Businesswoman Sarah Kabu has revealed her marriage is yet to achieve normalcy after a near collapse.
Speaking to Mpasho Live, the Bonfire Adventures proprietor said she is a strong woman but touching her kids makes her a soft woman noting that she was trending because she was defending her children.
"I was trending because I was defending my children because I feel children are precious especially under age children, no one should pull such a string, it was ten days without my children and that was the most difficult time in my life," Ms.Kabu stated.
Sarah said she is also yet to fully align things in her family as she is yet to get an apology from her step daughter who had taken off with her children when her marriage was in storms.
Simon and wife Sarah Kabu expecting baby number three
"I have still not received an apology from the girl, there is a lot happening in the family which I would love not to address on social media," Sarah Kabu said.
In a candid interview with Tina Lewis, Sarah confessed that she is tired of living a lie on social media, with the pretense that their marriage is perfect.
"It reached a point I said I don't want to live a fake life anymore. I will live the real me and who I am. Sometimes I see people are getting inspired by me and yet I'm just showing the good part, they have not seen the bad part. Many look at us like humble people, and we have become soft targets for bad people and that's why you see sometimes I hit back. 70 percent were very good people," Sarah said.
ece-auto-gen
The couple however mended things and got back together after Sarah came out to apologize to her husband Simon Kabu for airing issues concerning their troubled marriage in public.
JOIN OUR PULSE COMMUNITY!
Recommended articles
5 traditional qualities money has replaced in modern relationships
Is love transactional? - First episode of Pulse LSL premiers [Video]
5 things you can do if you are stuck in a queue for hours
5 reasons you should consider having a court wedding
The perfect nail color to wear when your boyfriend proposes
4 side effects of eating peanuts in excess
Miracle Baby's girlfriend treated to surprise baby shower [Photos]
Badagry Slave Route: Slaves passed these 5 notable stops on their journey of no return
Here's why sleeping with your phone in bed can affect your health