Terryanne Chebet introduces her new bae to the world [Photo]
Love is a beautiful thing!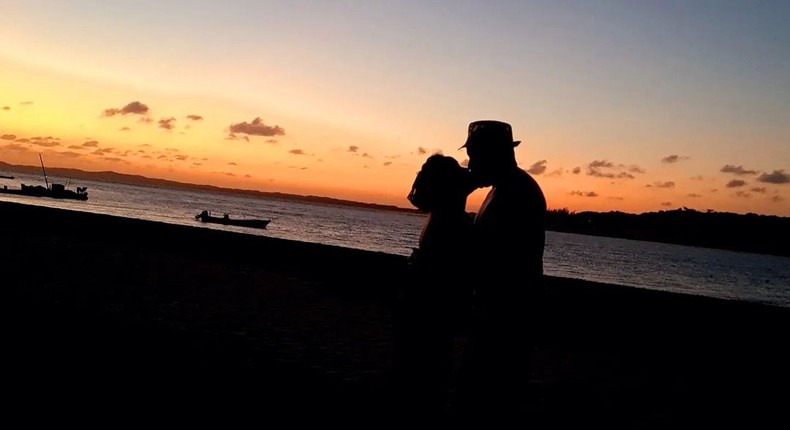 Media personality Terryanne Chebet is back in the dating scene, should her latest photo be anything to go by.
On January 27, 2022 the former news anchor introduced her new bae to the world, in a photo posted on her social media.
However, the picture shared was captured strategically on the beach and with a sunset in the background only painting a silhouette of Chebet and her new lover locked in a kiss.
Her captioned for the photo read: 'Te amo', which translated from Spanish means 'I love you'.
Terryanne Chebet and her Bae
This is the first time the former TV girl is showcasing a public display of affection after years of keeping her dating life private.
Reactions from celebrities
lilmuli Chiiiiìii I'm happy for you. Omg me next!
mayahayakawa Awww Terryanne. This makes me so happy. ❤️❤️❤️❤️
In an interview with Grace Msalame, Ms Chebet pointed out that she vowed to keep her love life away from the public eye and in doing so had found inner peace.
"I believe there is a reason why personal is actually called personal and there are things that are your personal life that should remain that way. And if you put too much out there, it invites criticism and bad energy.
"So as for me I said I will protect my dating life, I will protect the people I date because they are not public personalities. I would rather keep that part of my life, as private as possible because it gives me peace. And nobody really needs to know until when I probably walk down the aisle and then they can know or I can still choose to keep it private. Personal has to be personal," said Ms Chebet.
"For me it hasn't been 100 per cent easy but it had to get to a place where we had to put the child first and you both ask, can we put aside our own worries, fears, our own egos, so that we put the life and interest of the child first and sometimes it might take a while.
"I always say you don't have to be best friends with your co-parent. Mutual respect, cordial relationship, such that you'll not pass each other, once in a while they can call and speak to the child or come pick the child," Chebet advised.
Terryanne Chebet reveals why she has kept her dating life private over the years Pulse Live Kenya
JOIN OUR PULSE COMMUNITY!
Recommended articles
Tears & emotions: Kenyan lady working in Lebanon goes viral in emotional farewell
TikTok 'orange peel' relationship test - 3 dating experts discuss the psychology behind it
Just 1 minute of squats can boost concentration & improve decision-making
6 astonishing facts about December that will blow your mind
6 practical ways to deal with toxic parents
70-year-old Ugandan woman gives birth to twins
10 personal spaces every partner should respect in a relationship
5 survival tips for single people this festive season
5 things every woman wants for Christmas