Story of Mau Mau marshal Muthoni wa Kirima who shaved dreadlocks after 70 years
The Mau Mau veteran allowed former First Lady, Mama Ngina, to shave her 70-year-old dreadlocks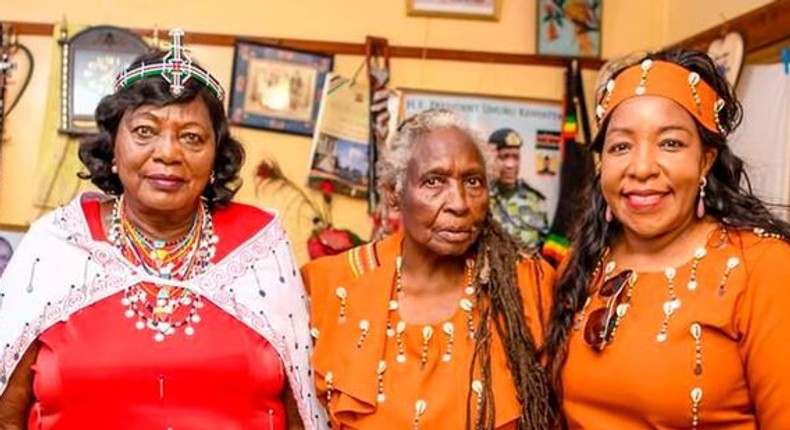 Field marshal Muthoni wa Kirima explained why she asked Mama Ngina Kenyatta to cut her 70-year-old dreadlocks.
The 91-year-old Mau Mau veteran disclosed that she consented to have her hair shaved, categorically stating that she believed it was an important time for a makeover.
"I had to cut it because it has been a long journey. I started keeping this hair in 1952 and after more than 70 years, I needed to get rid of them. I now feel like a young girl," Field marshal Muthoni stated.
The ever-playful and joyous Muthoni went a step further to quip that if anyone had attempted to cut her hair without her approval, they'd have been met with blows and kicks.
Muthoni concluded by emphasising that she resorted to shaving her head to signify that Kenya had finally gained full independence.
The decision to keep the dreadlocks, she pointed out, had signified a lot of perseverance - a reminder of what she underwent under the harsh colonial rule.
"Dreadlocks were the hairstyle associated with the Mau Mau while fighting in the forest as they barely had time to properly groom their hair, making it to lock," Muthoni concluded.
Pulse Live Kenya
Muthoni wa Kirima's dreadlocks preserved in a museum
On April 2, 2022 the freedom fighter shaved her six-foot-long dreadlocks in a ceremony that was witnessed by Mama Ngina Kenyatta, who was her friend during their stay in the forest and jail term at Kamiti Prison.
After a closed-door meeting at her home in Pembe Tatu estate, Kamakwa in Nyeri Town, the former first lady performed the shaving ceremony.
When Mama Ngina finished cutting the hair, she wrapped the dreadlocks with the Kenyan flag before placing them in a basket. She said they would be stored at a museum to preserve their history.
JOIN OUR PULSE COMMUNITY!
Recommended articles
Why Amazonian men willingly father children who are not biologically theirs
Since bed bugs are currently taking over Paris, how deadly are they?
Who rocked it better? Ilebaye Odiniya or Yara Shahidi?
OctobaFest Kisumu edition: A harmonious fusion of music, fun, & economic boost
5 lies every girl has told her boyfriend before
When women don't wash their bras often, these 5 things happen
3 easy ways you can increase your daily protein intake
It's dangerous to rest your legs on a car's dashboard, here's why
Vinka goes shooting: 5 benefits of shooting at a gun range