I can write a whole book - Wakavinye on the benefits of working out while pregnant
Celestine Ndinda alias Wakavinye underscored the importance of working out while pregnant saying it is rewarding.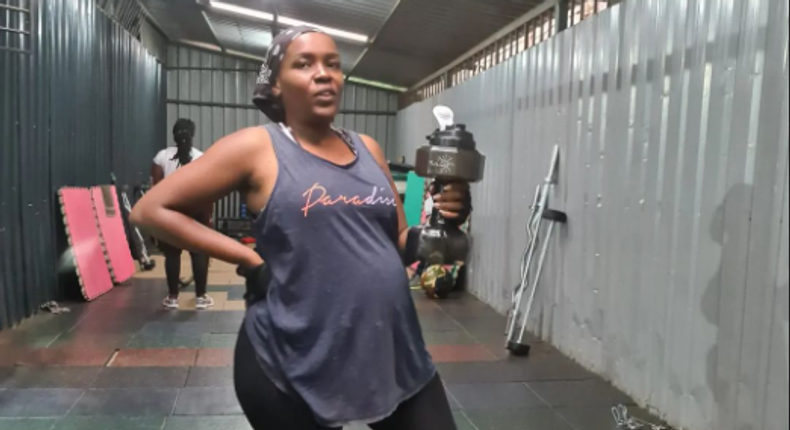 Celestine Ndinda, Njugush's wife shared photos of her during a workout session when she was pregnant saying it paid heavily.
She underscored the benefits of doing light exercises during pregnancy saying she underrated the advantages of doing it while pregnant.
She even went ahead saying she can now write a book on the subject after practicing it in person since it helped her.
"I really underestimated working out while pregnant. Now I feel like I can write a whole book about the advantages that came with this. Na sio hio mambo ya (it is not about) 'snap back' No, it's wholesome," she said.
"Na si ati nilikuwa na chapa hio tizi saanaa, (I was not doing much) a few donkey's kicks and stretches. This was the only time tuliskizana na Freddie, like 'chapa tu tizi kidogo uende home' (do small bits and go home). Then Fridays were their mother. Kudance nayo tulidance," she added.
Celestine Ndinda Pulse Live Kenya
"If you are paged and you feel you can do this, of course with permission from your doc, please do it. You'll love the outcome. Thanks to Stephanie for preaching this to us. I can now confirm that indeed working out while paged comes with so many health benefits, sana sana hapo kwa (more so in) faster recovery," Celestine advised.
Some of the benefits of working out during pregnancy include the reduction of backaches, constipation, bloating, as well as swelling which happens mostly on the feet and hands.
Other benefits are boosting one's mood and energy levels, helping one to sleep better preventing excess weight gain, and promoting muscle toning, strength, and endurance among others.
JOIN OUR PULSE COMMUNITY!
Recommended articles
Dress for success: 5 tips that make you look more powerful in a suit
5 best places to propose to your girlfriend
How to get your crush without shooting your shot
Why do guys still masturbate when they have girlfriends?
Signs she will say yes when you pop the question
Ladies: Here are 5 dangers of wearing waist trainers
3 reasons you should apply lime juice on your face
NTV anchors Ben Kitili, Lofty Matambo promoted to senior roles
15 of the wildest animal specimens I saw hidden underneath one of the world's largest natural history museums