University of Nairobi Prof Peter Mbithi on Friday morning came under attack after making a controversial statement on the death of former student leader at the institution, OCS Samuel Ragira.
Mbithi responded to the death by distancing UoN from Ragira and went on to advise students to avoid Klabu 36 area where the former student leader was shot dead.
"Please note, Club 36 is not University of Nairobi property. It is run by people who are not UoN staff or students. Former students are not UoN students. Goons are not UoN student. Expelled students are not UoN students. Club 36 is a dangerous place, avoid. #RIPOCSRAGIRA," Mbithi tweeted.
Ownership of Club 36
The statement was met with an online uproar from Kenyans who felt that it was made in bad taste.
Ragira, a former student politician at UoN, was murdered on Thursday night by alleged armed goons fighting for control of Club 36 – a busy commercial hub made up of informal structures where students get their meals and various services.
After sustained attacks, the UoN boss deleted the tweet and put up several statements praising Ragira as a "humble human being".
"Please note, Samuel Ragira was a humble human being, larger than himself. We mourn you. Club 36 is near University of Nairobi, but is not owned by UoN," Mbithi said in a subsequent tweet.
"It's disgusting and highly disappointing how all you care about is protecting your image! This is the second student to die in the University of Nairobi this Week and all you want to do is protect your image! WHAT A SHAME!" Vivian Taabu wrote on Twitter.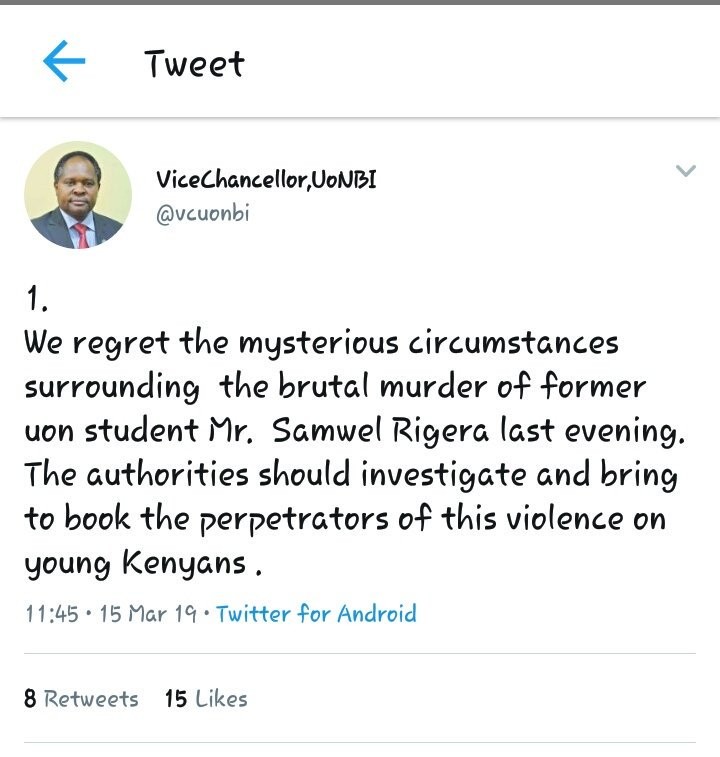 RIP OCS Ragira
"It is extremely irresponsible 4 the VC to maintain blatant denial of existence & OWNERSHIP of a facility that has served the university fraternity with affordable meals & all essential Services which the institution could not provide as PART OF ITS RESPONSIBILITY. #RIPOCSRAGIRA," Jeff Mwazzak stated.
"I miss the days of proof Magoha...he was strict but sensitivity on matters comrades," Faith Irungu said in reply to Prof Mbithi.
"This is one thing you are not supposed to tweet Bw. VC. I might be young and might have been young but since your appointment in Kisumu in 2014 people had reservations about you. This is a wrong time to have such a tweet," Maurice Kamau opined.