NASA leaders throw their weight behind Meru Governor Peter Munya
The leaders praised Munya hailing him as a true believer in devolution.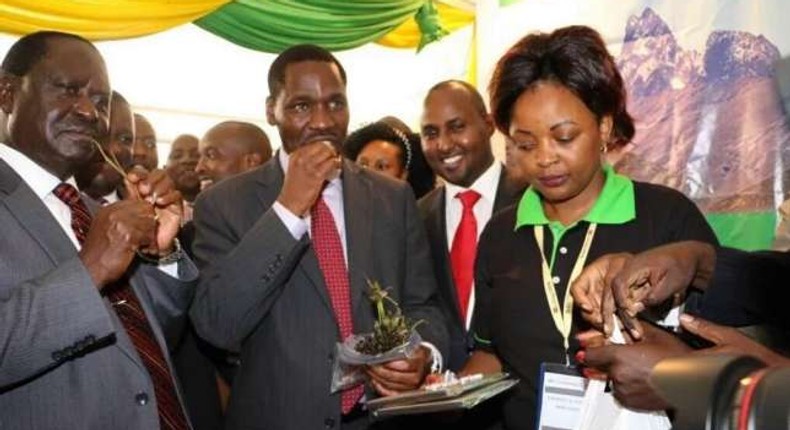 The National Super Alliance (NASA) has backed the re-election of Meru Governor Peter Munya.
"Munya is a friend and we have a lot in common as far as devolution is concerned. He stands for what is truthful and just. We welcome him to NASA.
He has been frustrated in his efforts to fight for devolution. In this regard, we will work closely with Munya if we get to head the national government," NASA leader Raila Odinga told Meru residents.
The leaders said that if they will form the next government, they will allocate 45 per cent of national resources to counties instead of the meagre 15 per cent given by Jubilee.
Raila chided Munya's rival for the Meru gubernatorial seat, Senator Kiraitu Muriungi, who recently said that the decision to merge several parties to form the Jubilee Party was a mistake.
"The idea was and remains noble, but Kenyans are not ready for such a big party," Kiraitu, who was also the Jubilee steering committee co-chair said.
"They were laughing at other coalitions like Cord for being unable to merge constituent parties and they said they had fulfilled their mission. I was surprised to see the same Kiraitu regretting having dissolved his APK to join Jubilee, saying it was a mistake," Raila said.
Raila shunned party hopping for creating a "prostitute mentality" and said Kenyans should join and stick to parties that share ideologies and principles.
"Transition from a single to multi-party system of government must come of age. My appeal to the conscience of our people is to join parties with specific ideologies that you share, and stick there," he said.
JOIN OUR PULSE COMMUNITY!
Recommended articles
UDA MP Silvanus Osoro suffers the wrath of angry MPs [Video]
Gov't to increase gamblers from 9% to 37% with creation of national lottery
Israel plans to flood Gaza strip tunnels with seawater
Controller of Budget Margaret Nyakango arrested in Mombasa
4 suspects arrested over kidnapping of 2 car dealers in Juja
VIDEO: Cab driver narrates how he rescued 2 victims from armed kidnappers
Islamic resistance vows retaliation after US airstrike killed 5 Iraqi militants
State House throws governors, MPs under the bus on 765 COP28 attendee list
8-month-old baby thrown into the Indian Ocean by mother at Likoni Ferry rescued