Teen couple live-stream police shootout before suicide-murder
A teen Russian couple live-streamed themselves shooting at the police before their murder-suicide.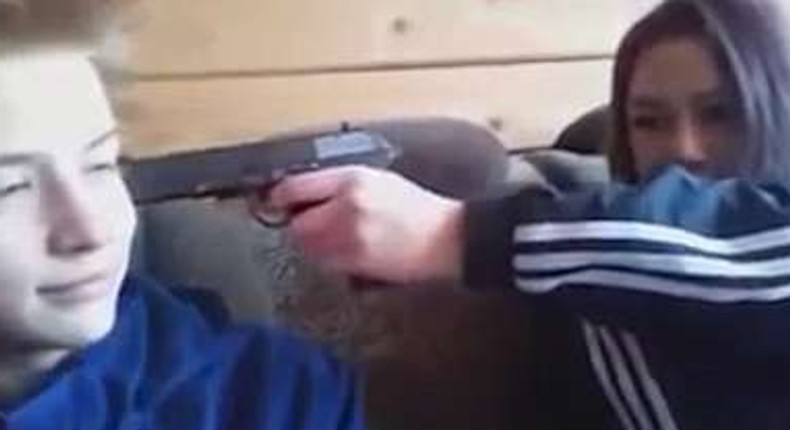 The video footage shows the couple identified as Denis and Katya, both aged 15, laughing and joking before the teenage boy points a gun out of the window of the house they are holed up in and opens fire on a parked police vehicle.
Elite Daily reports that the pair were staying at the apartment in Russia's Pskov region after Denis had a row with his parents, and that it was empty at the time of the recording.
In the course of the recording, the young couple showed off their weapon arsenal which included several bullets.
The pair could be heard repeating the words, "Russians don't surrender." Denis is also heard saying, "If we don't surrender, we die. But if we surrender, we will never see each other again."  At some point, Katya is seen holding a gun to Denis' head.
Meanwhile, Daily Mail reports that Denis reportedly shared a post via Instagram and Russian social media website, VK, which read,
"I loved you, but you do not notice how you destroyed my mind and life.
"Goodbye all, friends and family, and acquaintances. Do not worry, I will go out in style. Good luck to all in your life and please do not be afraid to live as you want or you see fit.
"Life is for fun – this is the best life. I love you."
According to the reports, the recording went on for hours, so much so that the pair began to answer questions sent to them on Periscope.
Elite Daily reports that Denis' Instagram account has since been deactivated.
The reports reveal that the couple has been fighting with their parents for the past few days and may have been the reason why Denis shot Katya's mother in the leg.
Following hours of failed negotiations, the police finally stormed the apartment only to find the bodies of the teenagers.
Denis is believed to have shot Katya before killing himself in a murder-suicide.
JOIN OUR PULSE COMMUNITY!
Recommended articles
'Being homosexual isn't a crime' – Pope Francis says, calls for love for LGBTQ people
Investigation launched into 2022 KCSE results
Bill proposes Sh500K fine for employers who call staff outside working hours
How Magoha's son revived his father, tried to buy him more time
Ruto recalls working with Magoha in condolence message
Family confirms death of Prof. George Magoha
PS Belio Kipsang makes changes to 2023 school timetable
School reopening: NTSA issues guidelines to parents, schools & motorists
Raila answers Ruto's claims on Chebukati murder plot