I was shot by carjackers -Tim Wanyonyi on how he ended up on a wheelchair
Nobody was looking at me the same way including my colleagues at work - MP Tim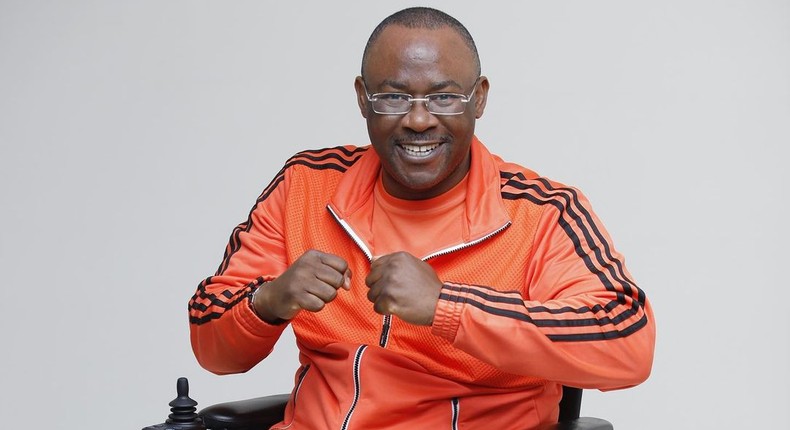 Westlands Member of Parliament (MP) Tim Wanyonyi has revealed the circumstances that confined him on a wheelchair back in 1998.
Appearing on JKLIVE, the legislator explained that he was shoot by carjackers somewhere in Ngara when he was heading home from work.
"I was shot by Carjackers. One evening when I had just left work and I was going home and some fellows accosted me somewhere in Ngara and shot me and quickly my life transformed from a young vibrant lawyer to a wheelchair. That was in 1998," MP Tim Wanyonyi explained.
He went on to expound that the recovery process was never easy as he had to learn how to cope up with a new lifestyle – using a wheelchair for the rest of his life.
"It is very difficult to transform from one condition of life to another one and that's what can drive you into depression and can also lead you into self-denial and many other things.
"But when you go through a process of healing it takes quite some time and healing the mind is the most difficult thing. You can heal the wound, they can heal everything but the mind I is very very difficult and once you reach that stage," he remarked.
"I went to Brussels for rehabilitation and in thee I was in a room for two days sleeping. The third day some lady cam and she wanted to take me out and I said can't you see I'm sick…she never left, she stood there for almost two hours until I had to get out.
"When we left the room we went to the gym and in the gym I saw wonders that people there who had lost all limps, the hands are not functioning, some have lost their memory, they are trying to reconstruct the memory. Then I said to myself, I. better than this people why I'm complaining and that was the begging of my road to recovery," Tim Wanyonyi said.
Upon coming back to Kenya, he went back to his practice as a lawyer but things were never the same again.
"I came back home and I went to my practice but things had changed. Nobody was looking at me the same way including my colleagues at work.
"All my clients were taken away so I will come in the office and sit form morning to evening doing nothing. I did that for almost one year and I told my brother (Wetangula) that I was leaving to go and set up my own practice, he thought I was joking.
"I resigned and left, went and setup my practice and luckily someone of my clients who were with me there followed me and said even if it means carrying you to Court we are ready and this are the guys who gave me the fighting spirit and form there I have never looked back," he added.
JOIN OUR PULSE COMMUNITY!
Recommended articles
Ruto appoints new ADC from KDF Special Forces branch
List of entertainment joints whose licenses have been revoked
Case against Agriculture CS nominee Mithika Linturi dropped
Museveni's son claims his army can capture Nairobi in 2 weeks
Cabinet lifts ban on GMO crops in Kenya
KRA saves Kenyans from further increase in fuel prices
NTSA arrests 2 touts after dangerous acrobatic stunts on speeding matatu
Otiende Amollo denounces freemansory after his business partner's revelations
Oscar Sudi jokes about how Ruto snubbed him for CS position [Video]