Nairobi County
It is the most populous of the 47 counties.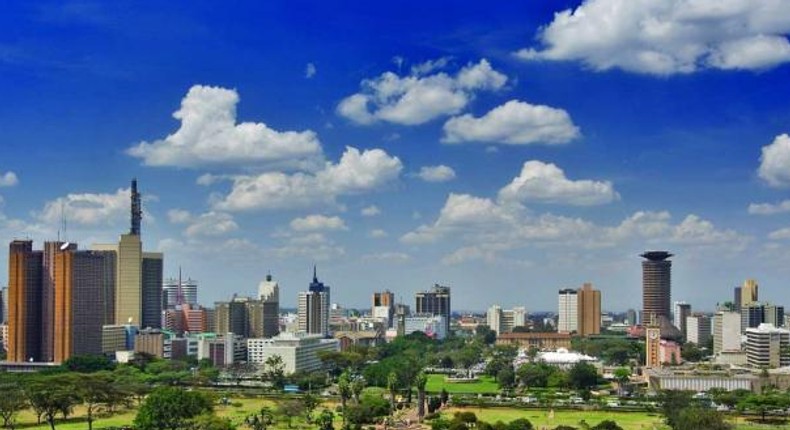 Nairobi County is the smallest yet most populous of the 47 counties.
It is coterminous with the city of Nairobi, which is also the capital and largest city of Kenya.
Nairobi County was founded in 2013 on the same boundaries as the previous Nairobi Province, after Kenya's 8 provinces were subdivided into 47 counties.
Nairobi is found within the Greater Nairobi Metropolitan region, which borders of 4 out of 47 key counties in Kenya. It generates about 60% of the entire nation's wealth. It is situated at 1°17′S 36°49′E in South-Central Kenya, 140 Kilometers (87 miles) south of the Equator.
It is the most populous city in East Africa, with a current estimated population of about 3.5 million. This makes it the 14th largest city in Africa. According to IEBC, Nairobi has a total of 2,304,386 potential voters.
Many multinationals have established their headquarters in Nairobi owing to its strategic location in the region. Coca Cola, General Motors, Google and the United Nations' regional headquarters, for example, have been set up in Nairobi.
Its modernity, state-of-the-art skyline, improved technology, highly educated and trained manpower, and diverse and vibrant market have elevated Nairobi to become the business hub of the region. Nairobi, alone, contributes 60 percent of Kenya's GDP.
ts companies are both public and private entities, including service based, agricultural and manufacturing industries.
Manufacturing in Nairobi consists of many small and medium-sized industries. These include industries manufacturing steel products, plastic goods, soaps, flour, vegetable oil, canned fruit and fruit juice, horticulture, and dairy and poultry farming.
Although Nairobi trade is based on an agricultural economy, the most vibrant industry is the service-based industry with Business Process Outsourcing (BPOs) as the latest entrant into the market.
The service industry contributes 59.2 percent of Nairobi's GDP as compared to 24 percent from agriculture, followed next by the manufacturing industry.
The informal sector (Jua Kali)
The informal sector is an integral part of Nairobi business. The "Jua Kali" sector is comprised of artisans who craft, fabricate and re-model all kinds of items. They also deal in the trading of second hand goods such as clothes, fabric, shoes, electronics and vehicle spare parts. "Jua Kali", a Swahili word for "hot sun", signifies outdoor exposure.
The hawkers market at Muthurwa is where most of the small-scale traders and "Jua Kali" artisans trade their products. Situated at the junction of Moi Avenue is the Maasai market where members of the Maasai community and other ethnic tribes exhibit their crafts every Tuesday.
At the heart of the city is the City Market - a market that specializes in fresh produce, flowers and Kenyan art and crafts products.
Nairobi is the only city in the world with a game park. Nairobi National Park is a preserved ecosystem where you can view wildlife in its natural habitat.
Hotels, airlines and numerous tour firms and agencies offer tour packages for both domestic and foreign tourists visiting Nairobi and the park. The tourism industry provides direct employment to thousands of Nairobi residents. Indirect employment is also realized through the supply of goods and services to this industry.
Both local and international banks dominate the banking sector in Nairobi. There are approximately 47 banks in Kenya to serve your banking needs, and the majority of these banks have their headquarters in Nairobi.
Major Nairobi banks include: Barclays Bank, Equity Bank, Standard Chartered Bank, Kenya Commercial Bank, National Bank, Co-operative Bank, and CFC Stanbic Bank, among others. Nairobi banks are open five days a week from 8am to 3pm, as well as on the first and last Saturday of each month. Many also provide 24-hour ATM service.
The thriving microfinance sector provides financial services to various un-banked and under-served segments of the Nairobi population, including the poor and low-income households, informal sector traders and micro-entrepreneurs.
Nairobi Securities Exchange (NSE)
The Nairobi Securities Exchange (formerly Nairobi Stock Exchange) is the leading securities exchange in East and Central Africa and the fourth largest in Africa in terms of trading volumes.
Situated at the Nation House on Kimathi Street, the NSE offers securities and stocks listing and trading for major companies doing business in Nairobi, Mombasa, Kisumu and other parts of Kenya, including some companies in East and Central Africa. The Nairobi Stock Exchange plays a major role in the Nairobi economy by mobilizing funds for investment.
The county is composed of 17 Parliamentary constituencies:
JOIN OUR PULSE COMMUNITY!
Recommended articles
Health CS announces plans to rebrand NHIF
Why Nakuru couple lost 5 newborns after celebrating miracle birth
19 MPs with the most political influence in Kenya
President Ruto sacks 5 Uhuru-era appointees
US jails Kenyan who created 10 bank accounts to scam unsuspecting lovers
How EALA MP Kanini Kega is living the dream in Tanzania [Photos]
6 Kisii teachers arrested for punishing students indecently
Children share stories of hope and resilience in the face of crisis
Family pays glowing tribute to Fridah Kamuyu who drowned in Juja dam