An open letter to Raila Odinga
We don't have to bleed for you to lead.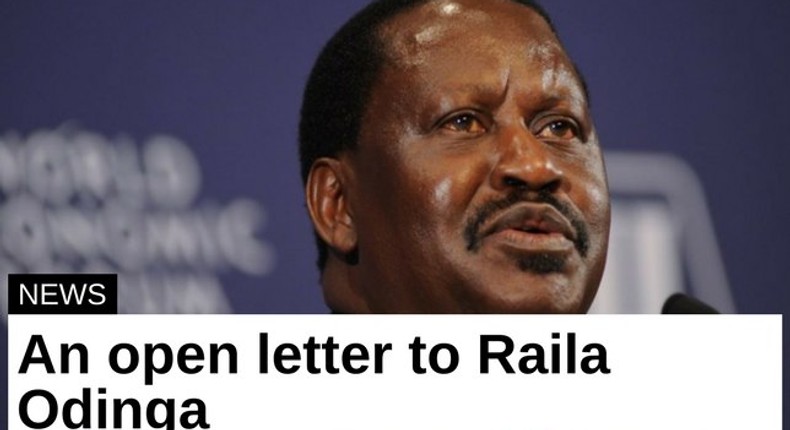 It's happened already. The elections are over, the people have decided. It is not your turn to rule the nation.
However, 6 million people believed that you could. They believed that you can change our nation, that you can bring prosperity and peace. It is not what is happening in Kisumu, Mathere and Kibra.
Sir, when you appeared for the Presidential Debate in July your first words were that the people are hurting.
This goes to proof that you are not oblivious of what is happening in the streets. Now, you cannot be oblivious of the deaths, businesses being burnt down and your loyal followers being killed at the expense of fighting for the seat.
You spearheaded the various changes that were made in the International Electoral Boundaries Commission (IEBC) to ensure that the elections were held fairly and freely. International observers even made time to witness and affirm the same.
You disputed the form 34As and Bs and IEBC availed them to us. You spoke of hacking but IT experts denounced it with facts for all Kenyans to understand.  Uhuru Kenyatta won. It is what Kenyans know, it is what Kenyans believe.
Jalang'o wrote to you on Sunday and begged you to speak up. Indeed you have the power to stop the radicals from killing the innocent. The bible says, life and death is in the power of the tongue. This time, it's yours. You have hundreds of people's lives at your mercy. Your words Sir, could destroy or build our nation. All you have to do is to speak, tell them to stop fighting so that life can continue.
2007 stole from us all. Years of development burnt down, many were left homeless, others disfigured, and some mentally broken for life because neighbours turned to on each other.
Violence does not determine who is right, only who is left. And those left, purloined of their families, their livelihoods and identity will remember the great injustice done to them for generations to come. Let's not kill a future before it even begins. Let's not fill it with hatred.
Resign in dignity. Let it be known that Kenya lost a chance of salvation because they didn't vote you in instead of us remembering the many lives paid for it with. We don't want to bleed for you to lead.
JOIN OUR PULSE COMMUNITY!
Recommended articles
I organized a crowd for Raila during Eldoret visit - Oscar Sudi spills
It's my first time - watch Moses Kuria walking unaided after accident [Video]
Leaders of Islamic State and Al Qaeda killed within a span of 24 hours
Mike Sonko reacts to court clearing swearing-in of Anne Kananu
Yahoo Boy jailed in Edo for pretending to be James Bond actor
3 CSs host Raila in Nyamira County for major Harambee
Police launch manhunt for man who assaulted his 90-year-old mother in Makueni
1 dead: How Komothai Girls defended themselves after boys invaded their dorm
New closing time for Bars and Restaurants, CS clarifies on wearing masks