Police recover guns and security paraphanelia from city tycoon's Land Cruiser V8 and Mercedes Benz
The tycoon had rushed to bail out his Landcruiser when the Mercedes Benz he arrived in was also searched and he was arrested.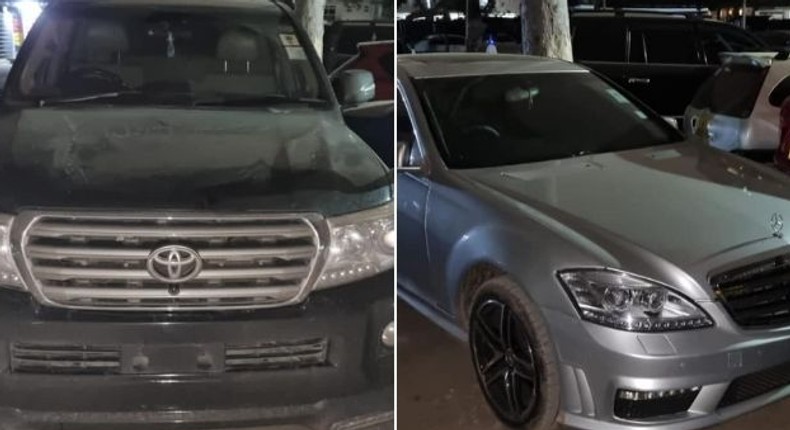 Three people found to be in possession of illegal firearms, were yesterday arrested by DCI detectives.
According to a statement by the DCI, Chris Mwangangi and Lucia Wanjiku were driving along the Arwings Khodek and Ring Road junction within Kilimani, when they were intercepted by the kilimani-based crime busters.
The detectives who were on routine patrol became suspicious after coming across a black Toyota Land Cruiser V8 with no front number plate, prompting them to immediately flag it down.
Upon a thorough search of the vehicle, detectives managed to recover one Ceska Pistol with its serial number erased, one revolver pistol and an unidentified frontal number plate.
Preliminary investigations revealed that the driver found with the motor vehicle wasn't the actual owner. The vehicle instead belonged to one Jeff Maina, a close friend of his.
Mwangangi spoke to the owner informing him that he had been arrested and had been taken to Kilimani police station.
This prompted the Maina to drive into the station shortly afterwards, after which he was arrested and a quick search conducted inside the vehicle he had arrived in, a Mercedes Benz.
The eagle-eyed sleuths managed to recover two police handcuffs, one Ceska Magazine loaded with 7 rounds of 9mm ammunitions, one police pocket phone and several identification cards from the car.
Pulse Live Kenya
The suspects were placed in custody pending investigations, while the recovered firearms were handed over to our ballistics experts for examination.
Also arrested is a police officer based in Mombasa, who is believed to have given the handcuffs to the suspects.
JOIN OUR PULSE COMMUNITY!
Recommended articles
'Sina maoni' man granted all expenses paid holiday trip
Security beefed up at Bomas, causes stand-off between police and Azimio politicians [Video]
Presidential candidate concedes defeat, endorses William Ruto
Raila's 1st public address as Kenyans await 2022 presidential election result [Video]
Igathe, Omanga concede defeat in Nairobi
Revealed: Details of missing IEBC official's last phone call with family
Sakaja wins in Nairobi as Azimio takes Senator and Woman Representative
Disputed 2022 gubernatorial elections [List]
Details of Uhuru's call with U.S Secretary Of State