Atwoli reveals 2 elaborate plans to hand President Uhuru Kenyatta another term in office
"...Nothing stops Kenyatta from running again, and we will support him" Francis Atwoli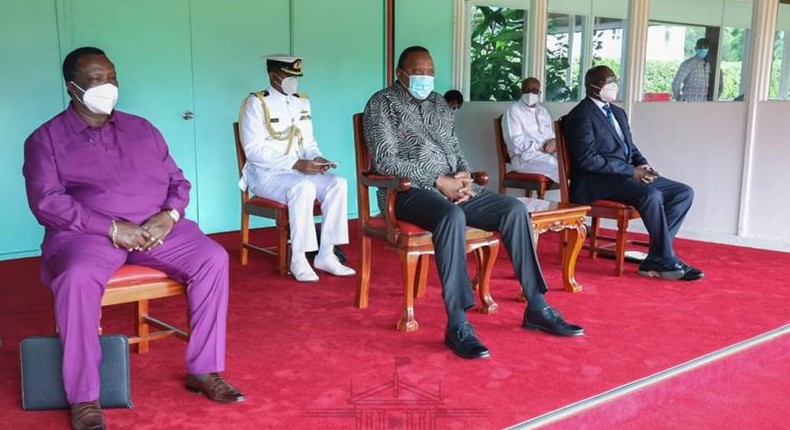 Fiery trade unionist Francis Atwoli revealed elaborate plans to hand President Uhuru Kenyatta another term in office.
In an interview with Nation, the political mobiliser, activist and kingmaker who has been hosting political leaders and opinion leaders at his Kajiado home reportedly claimed that once the country's laws are changed (through a referendum), President Uhuru Kenyatta will be at liberty to seek another term.
The publication quoted Atwoli stating that "Uhuru can use the envisioned changes to remain President beyond 2022. Why are people pretending that they don't know that Moi, after the constitutional changes of 1991, remained in power for another decade? Once the Constitution is changed, we'll begin from the default and nothing stops Kenyatta from running again, and we will support him".
The trade unionist cited 1992 when despite former president Daniel Arap Moi having in power for more than ten years, he was still elected as President in 1992 and 1997 after the country's laws were changed to reintroduce multiparty democracy.
Another option on the table is having the President vacate office at the end of his second term in 2022, take a junior post for 5 or 10 years before making another comeback for the top seat.
Maintaining that age is on Uhuru's side, Atwoli admitted that they are drawing inspiration from Russia where Vladimir Putin and former Prime Minister Dmitry Medvedev swapped places in 2008. Putin bounced back in 2012 to lead the Eastern European nation which he heads to date.
"The same can happen here. President Kenyatta can take a junior position, wait for five or 10 years and then come back as President. He's a young man and, most importantly, the provision will be constitutional once the laws are changed." Added Atwoli.
In an interesting twist of events, Atwoli later took issues with the publication on Sunday afternoon, stating that he was misquoted by the publication.
"Why can't the Daily Nation get simple things right? Why sensationalise the story?
"I said the Constitution may be changed. Then the new Constitution could create positions that might interest H.E. Uhuru and it is his choice to go for them. But he has already hinted at going home," Atwoli stated.
Pulse Live Kenya
The Uhuru succession debate has been a hot topic with many angling to succeed him.
Leading the pack is his deputy, William Ruto who has been drumming up support for his 2022 bid.
The President has on several occasions made it clear that he has no intention of hanging on to power, stating that he will exit at the end of his current term.
JOIN OUR PULSE COMMUNITY!
Recommended articles
CS Kagwe confirms hacking of Chanjo system, fake vaccination certificates
Ida Odinga given new name after touring Nyeri alongside Raila
Ngirici opens up on her deteriorating relationship with Ruto
Moi's will shows how he divided mutli-billion wealth to his children
Universities with most unemployed graduates to lose state funds in proposed formula
JSC Summons Sonko over exposé on Justice Said Chitembwe
Ndichu brothers demand arrest of Murgor sisters
Westlands 2022 MP race shaping up to be 'the one to watch' in Nairobi
DCI Kinoti lands powerful role at Interpol