[Opinion] Politicians must stop obsession with Moi - a dictator who presided over a genocide
Moi is not the only parent!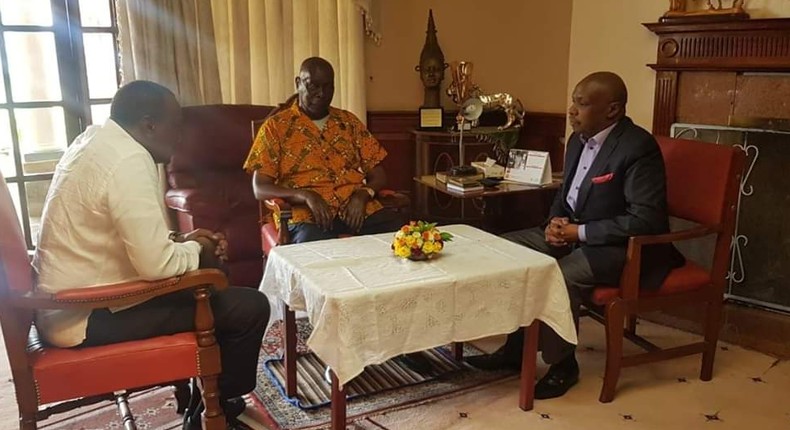 Take the example of Kenya's 2nd President Daniel arap Moi – one of the two living ex-Presidents.
Every Kenyan politician, led by President Uhuru Kenyatta, is always trooping to the old man's living room for photo ops. Even Moi's son, Gideon, is not shy to use his ailing father to gain political mileage.
One would be forgiven that Moi is the Ronald Reagan of JFK of Kenyan politics – but he is not.
Kenyan's second President can only be likened to Richard Nixon, the disgraced 37th US President who was impeached over the famous Watergate scandal.
But even Nixon is a lame comparison to Moi's scandalous and murderous Presidency that only served to bequeath him personal wealth in the billions (most of it linked to corruption and public theft according to numerous investigative reports).
As I watched the stampede at Kabarak as Kenyan politicians sought to condole Moi over his son, Jonathan's death, I wondered if anyone was looking after the relatives of the people who were murdered during Nyayo's reign.
There is Titus Adung'osi, a young promising man who became the first Teso to join University in the early years of Moi's Presidency.
Isaac Ruto, who served as a student leader at the time (and who gave a tribute at Jonathan's burial), described was a good Christian boy who did not like trouble.
Adungosi died in 1987 while serving time for trumped up charges of being involved in the 1982 coup.
Other promising young men (most of them student leaders and activists) who died in the hands of Moi's security agents include Karimi Nduthu, Solomon Muruli, and Charles Nyong'o (brother to current Kisumu Governor Anyang' Nyong'o).
Then there are the 1992 and 1997 political clashes which are said to have had the approval and coordination of President Moi's security and political apparatus.
The Truth, Justice and Reconciliation Commission (TJRC) report indicated that the provincial administration (then at the firm grip of the President) watched and in some cases aided militias in attacking members of certain communities in the Rift Valley.
At least five thousand people, mainly from the Kikuyu community, were killed between 1991 and 1992 (a genocide by any standards). At least 127 others were killed ahead of the 1997 elections, all deliberately choreographed to give Moi an upper hand in the Presidential election.
It is okay to condole and comfort him on the loss of his son but before doing so, politicians must tell us what they have done to comfort and get justice for the parents and relatives of those who died under Nyayo's dictatorial regime.
Evidently, Moi is not the only parent in Kenya.
By the way, I would think (and I suspect most Kenyans agree with me), President Mwai Kibaki was a much better head of state – why is it that political leaders are not trooping to his home to seek advice?
Tony Mukere is a journalist and political commentator. The views expressed do not represent the position of Pulse Live Kenya.
JOIN OUR PULSE COMMUNITY!
Recommended articles
Ruto's instructions to Interior CS Kithure Kindiki ahead of Raila's protests
Youthful MP speaks on nearly losing his life during foreign trip this week
Ruto's online exchange with Raila at night leaves Kenyans divided
Atwoli reveals what he told Raila before meeting Ruto at State House
Biography: Kenya's youngest Interior PS Dr Raymond Ojwang' Omollo
Ruto's daily routine and strategies to avoid fallout in Kenya Kwanza
Prince William awards Sh150M to 29-year-old Charlot Magayi
Ruto responds to Raila's calls for protests with warning to Kenyans
4 dead, scores rushed to hospital in grisly Saturday dawn accident