The life and times of Bob Collymore - impressive journey from a shop sweeper to Safaricom CEO
Bob was not able to get a degree but that never stopped him from shining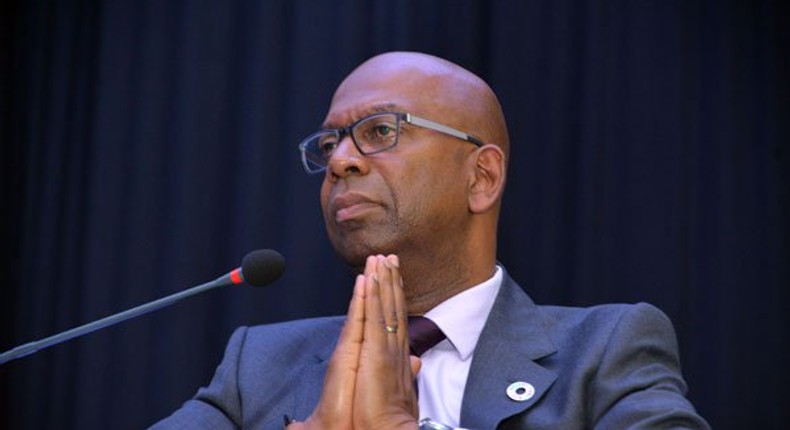 Robert "Bob" Collymore, the bubbly Safaricom CEO, passed on early Monday morning at his Nairobi home.
Collymore had in the past two years been fighting Acute Myeloid Leukemia - a type of cancer that starts in the blood-forming cells of the bone marrow.
Born 61 years ago in the Caribbean country of Guyana where he also received his primary school education, he moved to live with his mother to England at the age of 16.
In England, he completed his high school and was offered a place at Warwick University but could not proceed because he could not afford the school fees.
"I didn't get to university because honestly, we didn't have the money so I went out to work," he said while narrating his life – adding that his first job was cleaning floors at a shop.
"My first break is not in the conventional case, I worked at a shop, opening the store, cleaning the floor and stacking the shelves. That was my first break because for me, it is not that I am the Safaricom CEO, it is because of the person that I am and that job made me the person I am. It helped me understand how those people you see at the shop, it helped me understand what its like to be like them," Collymore recalled.
He later joined the telecommunications industry where he started out a junior officer before rising through the ranks.
Collymore worked for British Telcom for sixteen years before he was picked to become the Handset Strategy Manager at Cellnet (now Telefonica UK Limited), later moving to British electronics retailer, Dixon Group as a senior manager.
Form 1998, Collymore has worked for the Vodafone Group in various capacities – starting out as the Handset Purchasing Director.
He moved to Africa in 2006 as the Governance Director, and eventually to Kenya in 2010 to work as Safaricom CEO where Vodafone Group is the largest shareholder.
Regarding his rise in a European company where being black meant being a minority – the Safaricom CEO said he chose to see it as a positivity.
"From when I moved to UK, I was the only black kid in the classroom and I could see that as a handicap. Even when I started to work, I was always the one who was not white. I could have chosen to see it as being as a victim but I looked at it as an opportunity and told myself I was the special one."
"When the company was looking for someone black to go to South Africa, I was the only one they could find. When they wanted a black person to come here (as Safaricom CEO), I was the only one they could find," he said.
Over the past nine years, Collymore has pushed Safaricom from its strong position when he took over from Michael Joseph and made it even stronger.
In the 2009/2010 financial year, the company had a pre-tax profit of Sh21 Billion which grew to Sh63.4 billion as of the last financial results released in March this year.
Apart from being the Safaricom CEO, Collymore was involved in many aspects of the Kenyan society. For example, in 2015, he declared his wealth as a way of encouraging the private sector to assist the government in the fight against graft. His performance led to his appointment in the boards of various state corporations.
A descendant of African slaves shipped to the Americas during the Trans-Atlantic trade, he arguably had the best years of his career in Africa where he served as CEO of the largest telco in East and Central Africa.
He leaves behind a widow (Kenyan artist Wambui Kamiru Collymore) and four children – and will be buried on Tuesday at a private ceremony.
At Pulse Live Kenya, we say, rest in peace Bob. And pass our regards to Walter Rodney - another son of Guyana who had his best years in Africa and whose work continues to shape African intellectuals.
JOIN OUR PULSE COMMUNITY!
Recommended articles
New closing time for Bars and Restaurants, CS clarifies on wearing masks
Police act after bombing incident at Boniface Mwangi's Machakos home
90-year-old's dream comes true after he got an audience with Uhuru [Video]
2 women in viral video of Ndichu twins finally narrate what led to assault
New National ID will have a microchip and allow citizens to travel outside Kenya - Uhuru
Uhuru lifts nationwide Curfew
2 moments which proved politicians are not enemies during Mashujaa Day celebrations
Mwai Kibaki is my hero - Raila declares
November 16: Miguna Miguna to return to Kenya accompanied by former CJ