President Uhuru Kenyatta and former Prime Minister Raila Odinga had lengthy discussions in the Lakeside city of Kisumu on Friday evening with the media being locked out of the discussions.
Uhuru who was in Kisumu for the burial of Governor Anyang Nyong'o's mother met Odinga at the exclusive Yacht Club where the two leaders had talks over a meal.
Journalists and members of the public were turned away by hawk-eyed security detail manning the facility during the meeting that lasted up to 7:20 PM.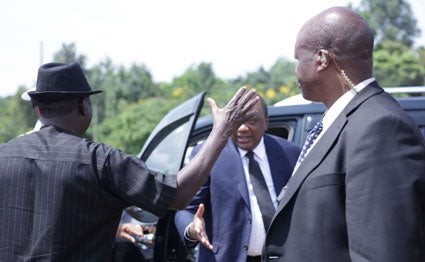 President Uhuru Kenyatta is received by Raila Odinga in Seme Ratta on 14 June 2019
The president's itinerary also included a discreet impromptu tour of Kisumu port accompanied by the ODM party leader to check the progress of construction works at the port that is currently under renovation.
Well-placed sources privy to the engagements divulged that the two leaders visited the dry dock where the giant cargo ship MV Uhuru was berthed.
Plans are underway to revive operations at the Kisumu port that where ships sailed Lake Victoria were made.
Grand plans for Kisumu
They spent some time at the Maritime Training Institute located within the port where it is believed the two leaders were briefed on the progress of construction work that is part of a facelift at the facility.
The pair drove in a fleet of 12 cars that made their way through the streets of Kisumu undetected without the usual police sirens and flags that are typical of the head of the state's convoy.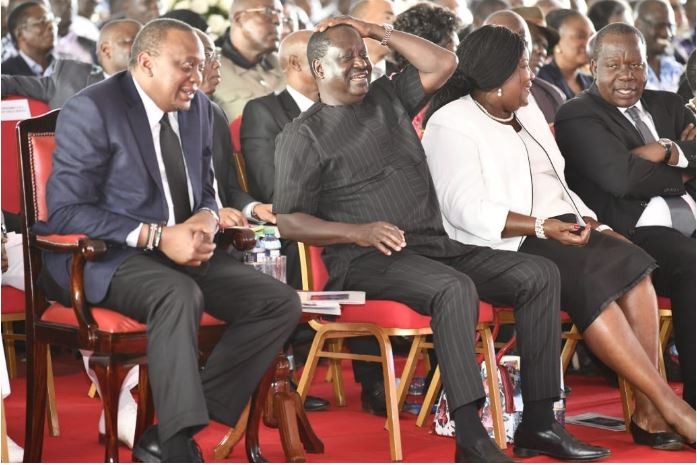 President Uhuru Kenyatta, Raila Odinga, mama Ida Odinga and CS Fred Matiangi in Kisumu on 14 June 2019
Details about the agenda of their meeting remain scanty but it is believed the talks centered on matters of public interest, fight against corruption and uniting the country.
Sh 500 Million was allocated to give the port a-much-needed face-lift and revive its operations.
President Uhuru Kenyatta is scheduled to commission the harbor in August with additional Sh. 2.5 billion expected to be pumped into the project that is expected to make Kisumu regain its lost glory.