106-yr-old Brazilian gets engaged to her 66-yr-old lover
This Brazilian couple remind us of love's ageless nature. No one is too old to experience its magic.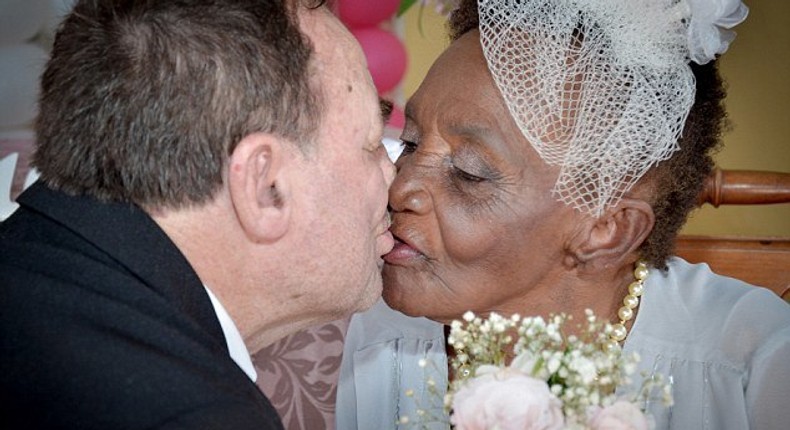 A Brazilian centenarian defied doctors orders and has now become the oldest person to get engaged at 106.
Valdemira Rodrigues de Oliveira and her 66-year-old boyfriend Aparecido Dias Jacob got engaged at a ceremony even though physicians warned them not to go ahead with the plan.
The love-struck oldies with a combined age of 172 have separate rooms at Nossa Senhora Fatima retirement home in Pirassununga, south east Brazil, and were determined to prove it's never too late to be with your soulmate. [Cue in Rihanna's 'We Found Love in a Hopeless Place' here]
Medics assessed their health and age and warned that the duo would not be able to cope with living on their own.
But the elderly romantics exchanged engagement rings in a betrothal ceremony specially put together for them by volunteers under an initiative called the Project of Dreams.
After the engagement ceremony, the 'lover girl'said, "I fell in love with him. I like him a lot. If he dies, I die too." [Cue in Westlife's "Unbreakable" here.]
One of the volunteers for the engagement ceremony, Fabiane Zaffalon, said: "As they couldn't get married we came up with another way to make their dreams come true by holding an engagement ceremony at the retirement home."
The organizers said Valda and Jacob had both separately expressed their desire to get married and have a little house where they could live together but doctors were against the idea because of their advanced years and health issues.
Regardless of that, the couple have now become engaged, with the support of volunteers who wanted their dreams to come true.
It's the first time either of them has been married.
JOIN OUR PULSE COMMUNITY!
Recommended articles
Why Ruto has slashed Sh300 billion from 2022/23 budget
2 Sugoi women stranded for weeks after attending Ruto's inauguration
7 key changes Ruto has made in his Cabinet
Breakdown of ODM's Sh10 billion assets
Ruto sued over Mutyambai's replacement
Raila's demands after lawyer Paul Gicheru's death
Ruto's agreement with top bank CEOs on loan defaulters
What next for top exiting Cabinet Secretaries?
Kabogo: Why Kenyans think he was the biggest loser after Ruto named cabinet