Father of female accuser says daughter lied
Stephanie Otobo's father has come out to decry reports of a relationship between his daughter and Apostle Suleiman.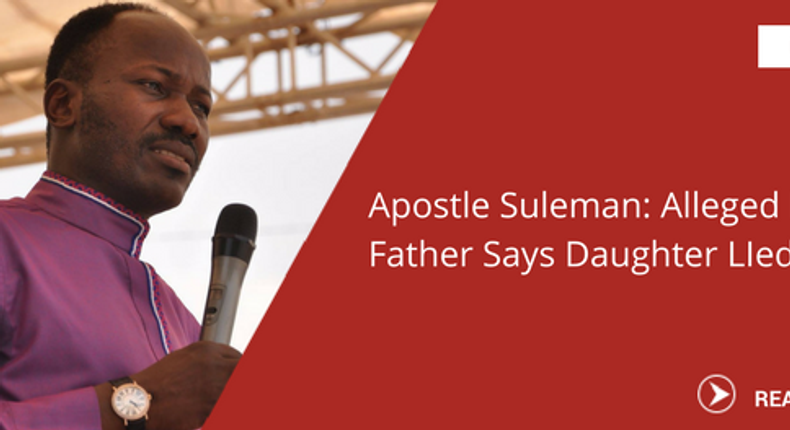 Following allegations of an amorous relationship between Apostle
According to earlier reports, Apostle Suleiman reportedly carried out an introduction at Stephanie's family home.
However, Stephanie's father, Rev. Benson Otobo, has refuted the claims, saying the man of God does not even know where he lives.
Rev. Otobo made the disclosure while speaking with newsmen in Abuja on Monday, March 6, 2017. He expressed regret that his daughter is not the decent girl he wished she would be, wondering why she would want to drag the Apostle's name in the mud.
When asked if the Apostle had come to his home for any marriage introduction with his daughter, the Reverend said: "Not at all. Apostle Suleiman does not even know where I live."
Rev. Otobo also informed journalists that he has since called the Apostle and advised him to distance himself from his daughter's misconducts.
He went on to reveal that himself and Stephanie are not in the best of terms at the moment, which is as a result of the scolding he gave her two months ago after he found her nude photos on Whatsapp.
Rev, Otobo said he is not surprised by the way his daughter has turned out, blaming her behavior on the fact that she had grown up with her mother in Sapele, Delta state after he divorced her.
He revealed that he divorced Stephanie's mother about 30 years ago over her infidelity.
In the same vein, the Reverend expressed shock and displeasure over the fact that his daughter would go so far as to attempt to rubbish the Apostle's name.
"I was shocked to hear this thing just yesterday. I'm not part of it at all. Even that my daughter, as I speak, we are at loggerhead because two months ago, I saw her picture on the internet, through her WhatsApp. I had a shout with her on the way she dressed and I saw her with tattoo and all that, I now advised her that 'look, why are you dressing like this, you need to dress decently even on WhatsApp, she flayed at me, giving me names, calling me names, telling me I'm not serving God and different kinds of things I cannot even reveal to you now.
"She insulted me and told me that from that day on, I was not her father anymore and that I should just forget about her for life.
"If a daughter is telling her father that, I don't know why I would be involved in anything that concerns her. I'm not aware of all these things that she's talking about. Not at all."
He adds, "She told me she lives in Canada, I don't know who she knew there."
When asked about the whereabout of his ex-wife, the Reverend said, "Her mother is in Sapele. And it's going to 30 years now that I divorced her mother when these children were even small because of her unfaithfulness. So, I have divorced her for a very long time."
Speaking of his daughter's age and where she had grown up, he said, "Stephenie is twenty something years. She grew up with the mother, she was very small when I divorced her mother. What is happening now is like ' like mother like daughter."
Otobo who goes by the stage name Kimora, petitioned Apostle Suleman, the founder and Senior Pastor of Omega Fire Ministries through her lawyer, Festus Keyamo, claiming that she and the pastor started a romantic relationship in Canada in 2015 with the man of God promising to marry her.
JOIN OUR PULSE COMMUNITY!
Recommended articles
Why DCI will conceal the face of suspect behind Nairobi Hospital staffer's murder
Live
Treasury CS Njuguna Ndungu answers questions from MPs
DCI flushes out prime suspect in Eric Maigo's murder
Nairobi clubs rush to prevent fines for using clients' photos on social media
How Secret Service handled Nairobi tour of U.S. Defence Secretary Austin [Video]
MCA arrested in connection to defilement of 14-year-old
Preliminary investigation reveals why 10-storey Mirema building collapsed
Fear grips congregation after gunmen invade church, rob cash & phones
Duties Ahmednasir wants Ruto to remove from Gachagua's office