Nigerian army parades 14 suspected members of terror group
Buhari's era as president of Nigeria has marked a turn of the tide in the battle against Boko Haram.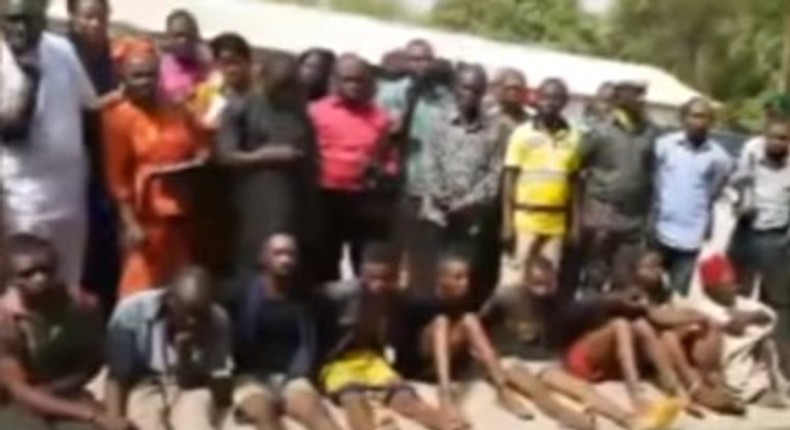 The Nigerian Army has paraded 14 suspected members of the Islamic terror group, Boko Haram in Kogi State.
This is the most recent breakthrough in the combat against the sect who are responsible for the deaths of thousands of Nigerians.
The suspects were captured in a video as some representatives of the army interrogated them concerning some of their attacks.
According to a conversation heard in the video, the activities of the terrorists were mainly kidnapping and robbery.
They were able to carry out their agenda with some sophisticated weapons which were seized and put on display during their interrogation.
The election of Muhammadu Buhari as president of Nigeria marked a turn of the tide in the battle against Boko Haram.
Under Buhari, the army has gained a renewed strength as opposed to the era of former president, Goodluck Ebele Jonathan.
Jonathan's rule saw countless deaths of army officials who were considered poorly equipped for the herculean task.
JOIN OUR PULSE COMMUNITY!
Recommended articles
Parents of boy rescued in Tsavo recount 6-day search for 4-yr-old son
Gov't to open diaspora departments in all Kenyan missions abroad
Wetangula's candidate trounces Ruto man in Bungoma senatorial by election
Kiss 100's parent company announces mass firing
Video: Rixxos Lounge employees defend boss after police probe his altercation with lady staffer
Mutula Kilonzo Jr reunites with Sakaja at City Hall
Azimio cancels public consultation planned for Jamhuri Day
Governor Sakaja's directive to result in 10,000 job losses
Year in Search 2022: What Kenyans searched for