"My husband killed our baby when he beat me," Wife tells court
An Igando Customary Court in Lagos state heard of how the husband of the respondent allegedly beat her up three days to her delivery.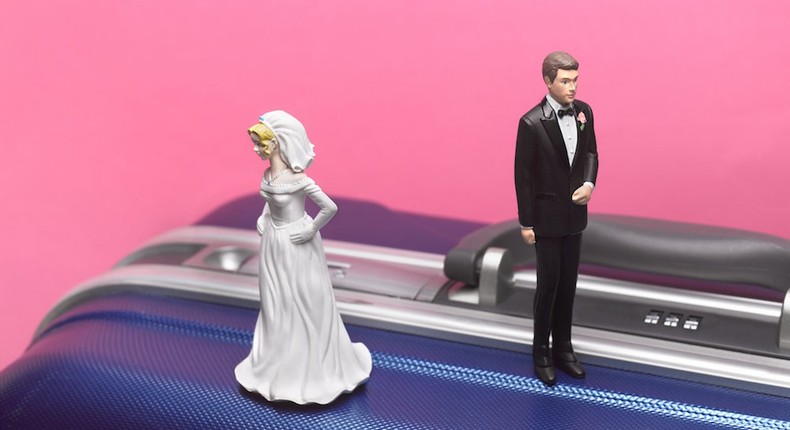 A 41-year-old businesswoman, Mrs.
She said, "My husband killed our baby when he beat the hell out of me three days to my delivery.
"When I was finally delivered of the baby, he was dead as he was confirmed to have been wounded while in my womb due to the battering."
Mrs. Mgbenka made the allegations during the divorce proceedings on Thursday, March 23, 2017, while responding to the divorce suit filed by her husband of 24 years, Edwin.
She added, "He used to beat me; and when I was pregnant, the beating continued unabated.
"Sometimes, my husband would strip me naked me, pour pepper on my body, before beating me,'' she said.
The respondent also accused her husband of being a flirt, revealing that he had impregnated two married women.
"My husband was having an affair; he got two married women with children, pregnant.
"Edwin gave one of his married lovers the documents of four out of his 14 shops he built inside Igando Market without collecting a dime from her.
"He also bought her a house in Ikotun, Lagos state," she said.
Mrs. Mgbenka also accused her husband of leaving her sex starved for the last four years and has turned her into an abandoned property.
Explaining how she lost her first two babies, she said, "My first baby died through the medical doctor's negligence, the second died through the beatings I received from my husband."
Despite all the accusations Mrs. Mgbenka leveled against her husband, she, however, pleade with the court to deny her husband's wish for the dissolution of the marriage.
"Please, do not grant my husband's wish, we both built the houses together but now he wants to push me out and bring in his `wives'," she said.
The petitioner, a 55-year-old businessman, earlier approached the court for the dissolution of his marriage over what he described as his wife's alleged threat to his life.
He claimed that his wife was always threatening his life with dangerous weapons.
"My wife always tells me that blood will flow whenever she is fighting me. She stabs me with dangerous weapons.
"There was a day she broke our standing mirror on me in my sleep because I refused to follow her to a church program.
"She always tells my apprentices that I will soon die that she will be the one to settle them. Ekwutobi threatened to kill me if I marry another woman, and now I have two women after her.
"She fought with one of the women that had a set of twins for me and that landed her in a police station," he said.
He also alleged that his wife was the one responsible for the death of their first baby.
"Few days after she gave birth to our first baby, it was discovered that the baby had a hernia and surgery was recommended.
"She was told not to back the baby but immediately after the surgery, she backed him and the baby died on her back," he said.
Mr. Mgbenka also said that his wife was violent in nature and that she had broken his car windscreen on four occasions, adding that his wife had bought a motorcycle for her lover with his money.
He also alleged that his wife encourages their children, aged eight and 13, to steal his money for her.
On these grounds, he urged the court to dissolve the union as he was no longer interested in it neither is he ready to die.
The court president, Mr. Adegboyega Omilola, adjourned the case to May 30 for further hearing.
JOIN OUR PULSE COMMUNITY!
Recommended articles
Amazing transformation of 21-year-old man bullied for being born different (video)
Abel Mutua's movie makes over Sh4M in 5 days
Why do guys still masturbate when they have girlfriends?
5 things you should never do to please a woman
How Janet Mbugua's husband Eddie landed Sh240 million deal with Chinese investors
British MP claims she didn't know her flat was owned by the Kenyatta family
I spent Sh800K - Vera speaks on begging for money to fund lavish Baby shower
Shika Simu yangu bro, we need you - Eric Omondi begs Eddie Butita
Janet Mbugua's husband thrown at the centre of nasty fight at Ole Sereni Hotel [Video]