President says "Comey is a leaker"
Trump on his Twitter handle on Friday also said that many statements made by the former FBI chief on Thursday were false.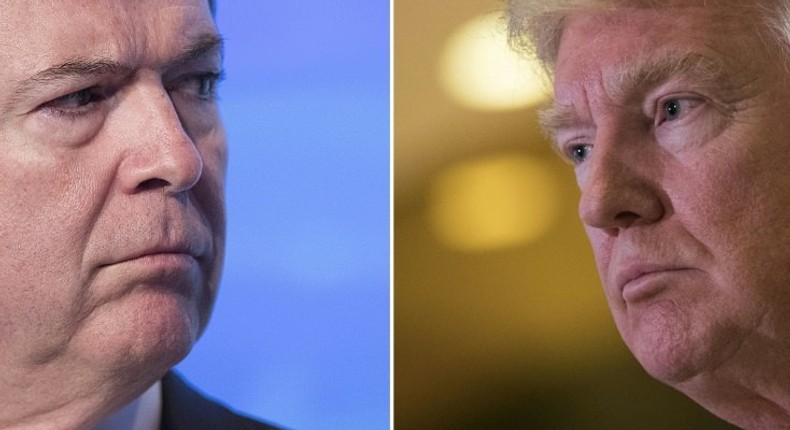 U.S. President Donald Trump on Friday called James Comey, former Director of the Federal Bureau of Investigation (FBI), "a leaker".
"In spite of so many false statements and lies, total and complete vindication…and WOW, Comey is a leaker!" Trump tweeted.
Trump's reaction followed the admission by Comey that he gave the memos of his conversations with Trump to a friend to leak to the media.
The former FBI chief also revealed for the first time that he turned over memos about his conversations with Trump to the Special Counsel investigating the Russian scandal, Robert Mueller.
Comey had, while testifying before the Senate Intelligence Committee investigating the alleged Russian collusion with Trump Campaign during the 2016 presidential election, made some damming remarks about Trump.
The former FBI boss, at the public hearing televised live, accused Trump of suggesting to him to "let Michael Flynn", the president's former National Security Adviser, "go".
Comey had testified that Trump and others in his administration lied when they said FBI agents had lost confidence in him to continue leading the bureau.
Referring to Trump's suggestion that he may have recorded their conversations, Comey said: "Lordy, I hope there are tapes".
Comey had also described Trump as a liar but stressed that Trump was not under investigation and the Russian interference did not affect the votes of the election.
Trump's personal lawyer, Marc Kasowitz, issued a statement afterwards denying Comey's testimony that the president pressured him to drop his investigations into the Trump campaign's possible collusion with Russia.
Kasowitz also said Trump never demanded "I need loyalty, I expect loyalty" as Comey testified on Thursday.
"Contrary to numerous false press accounts leading up to today's hearing, Mr Comey has now finally confirmed publicly what he repeatedly told the president privately:"
"The president was not under investigation as part of any probe into Russian interference."
"He also admitted that there is no evidence that a single vote changed as a result of any Russian interference," Kasowitz's statement said.
NAN also reports that a source close to the Trump legal team said on Friday that Kasowitz  plans to file a complaint on Monday about former Comey's disclosure of conversations with the president,
A source, who declined to be identified because the matter was not public, said Kasowitz will file the complaint with the Justice Department's inspector-general.
The source also added that Kasowitz will also make a "submission" to the Senate Judiciary and Senate Intelligence committees about Comey's testimony.
JOIN OUR PULSE COMMUNITY!
Recommended articles
Ruto appoints 49-member team to review CBC
Kakamega health officials probe suspected Ebola case
Sakaja's plan to retain military after NMS hands back transferred functions
NPSC appoints acting DCI boss
Ahmednasir criticises how CJ Koome received Ruto in Parliament
Why Ruto has slashed Sh300 billion from 2022/23 budget
2 Sugoi women stranded for weeks after attending Ruto's inauguration
7 key changes Ruto has made in his Cabinet
Breakdown of ODM's Sh10 billion assets