10 things you did not know about Fidel Castro
As the world mourns the passing of Cuba revolutionary leader, Fidel Alejandro Castro Ruz, Here are a few facts you didn't know about the man.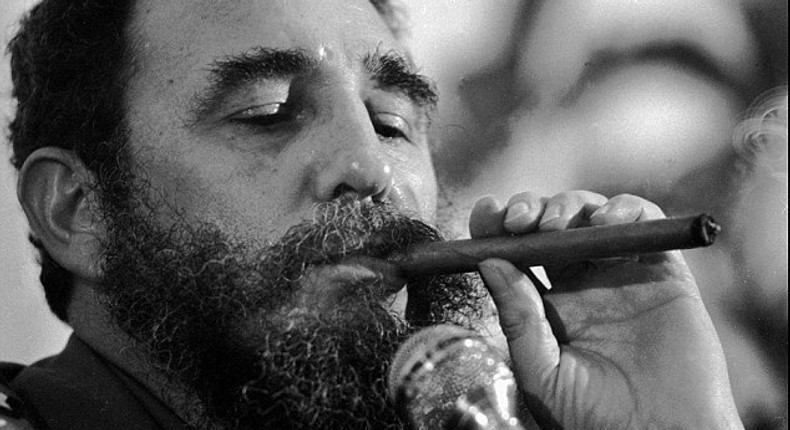 As the world mourns the passing of Cuba revolutionary leader, Fidel Alejandro Castro Ruz.
Here are a few facts about the man who led the overthrow of the Fulgencio Batista Zaldívar ending his dictatorship of Cuba in 1959.
Fidel Castro made Cuba the first Communist country in the Western Hemisphere.
1. Fidel Castro was born out of wedlock in August 13, 1926 on a sugar plantation near Biran, Cuba. His father, Angel Castro was an immigrant laborer from the Galician region in Spain but eventually became a prosperous landowner. Castro mother was called Lina Ruz and was a cook and maid to Angel Castro's first wife.
2. He studied law at the University of Havana In 1945. Castro first run for parliament in 1952 however the elections were suspended after the government was overthrown on March 10, 1952, by Fulgencio Batista.
3. On July 26, 1953, Castro and approximately 150 others attacked the Moncada military barracks in Santiago de Cuba in an unsuccessful attempt to overthrow the Batista regime. For his troubles he was sentenced to 15 years in prison. On May 15, 1955, however as part of a general amnesty for political prisoners. Fidel and his brother Raul Castro were released, they immediately flee into exile in Mexico.
4. While in Mexico, they meet Argentine physician Che Guevara. The three organised a group of Cuban exiles and form a new guerrilla group. From 1957-1958 they waged a guerilla campaign from there base, in Sierra Maestra Mountains against Batista forces. On January 1, 1959 Castro's forces eventually overthrew Fulgencio Batista. On February 16, 1959 Castro took over as prime minister.
5. Fidel castro was married at least once, first to Mirta Diaz Balart, the daughter of a wealthy family tied to the Batista regime. They had a son, Fidelito (little Fidel), born in 1949. He was reportedly a womanizer and sired as many as 10 children.
6. Despite almost every picture of Fidel Castro depicting him smoking Havana cigars, he quit smoking in 1985 for health reasons.
7. He started wearing a beard as a young revolutionary living in the mountains. It was not merely a symbol of the guerrilla fighter but practical reasons. "If you calculate 15 minutes a day to shave, that is 5,000 minutes a year spent shaving," he said, adding that he would rather spend his time on more important activities.
8. Castro was in power for 49 years. In that time, there have been 10 U.S. presidents. On February 19, 2008 due to ailing health, Castro announces his resignation as president in a letter published in the middle of the night handing over power to his younger brother Raul Castro.
9. He has been known to give speeches lasting up to seven hours, he once said that one of his favorite books was Ernest Hemingway's For Whom the Bell Tolls, which is set during the Spanish Civil War in the late 1930s.
10. On October 29, 2007 Castro published his autobiography "My Life" in Great Britain. The book contains a series of interviews done with journalist Ignacio Ramonet. The book was released in the U.S. in early 2008.
(sources; cuban-history-biographies/fidel-castro)
JOIN OUR PULSE COMMUNITY!
Recommended articles
Gladys Wanga issues orders after KCSE candidate died while delivering newborn
City Hall reveals number of bar owners arrested after warning on noise pollution
Sakaja kicks out matatus plying these routes from Nairobi CBD [List]
DP Gachagua under fire for splashing Sh900,000 cash on student parties
DCI officers raid Nairobi alcohol distillery as staff flee & leave machines running
Interior CS Kindiki warns criminals in his impromptu CBD visit
Details of Nairobi-wide crackdown which started on Sunday night
How did Evangelist Ezekiel manage to fill Kasarani Stadium single-handedly?
Why KOT is impressed with President Ruto's daughter Charlene