Thousands pay homage to victims of Baghdad protest
Wearing black and waving Iraqi flags, the crowd laid flowers on mock coffins during a large but peaceful ceremony in the Iraqi capital's Tahrir square.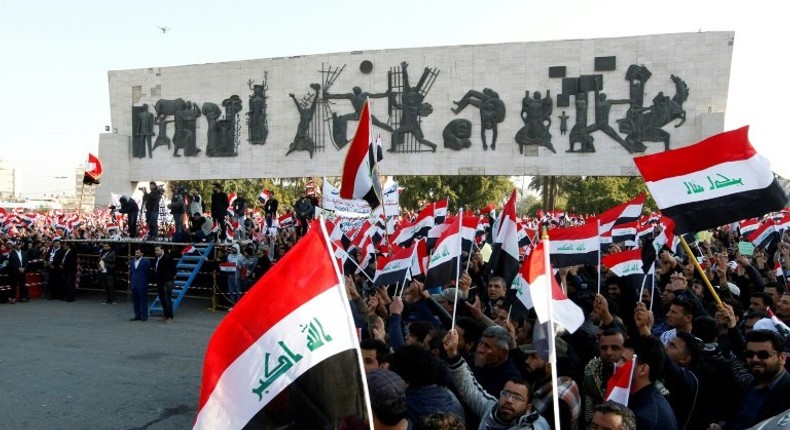 Wearing black and waving Iraqi flags, the crowd laid flowers on mock coffins during a large but peaceful ceremony in the Iraqi capital's Tahrir square, where Saturday's deadly rally also took place.
"What happened was a tragedy but it was for the country and for the fight against corruption," said Gailan Kadhem, a 22-year-old man.
On February 11, thousands of Sadr supporters and other Iraqis staged a demonstration demanding the country's election commissioners be replaced and the electoral law overhauled.
The protest turned violent when some demonstrators tried to force their way through a security cordon to head to the seat of the electoral commission in the heavily fortified Green Zone.
Sadr supporters had already broken into the Green Zone twice last year -- storming parliament and the prime minister's office -- and police met Saturday's protesters with rubber-coated bullets and tear gas.
According to Ibrahim al-Jaberi, a senior Baghdad official in the movement of the Najaf-based Sadr, seven demonstrators were killed in the chaos.
Hospital sources told AFP that they had confirmed a death toll of eight following the protest, the deadliest of its kind in years.
"In other countries in the world, the security forces use water cannons to deal with demonstrators when they need to," said Jaberi. "In Iraq, it's bullets. That's why we had a large number of martyrs."
"They are dead but our demands are still alive," he said.
The wave of anti-corruption protests Sadr's movement led last year was halted when Iraqi forces launched an offensive to retake Mosul from the Islamic State group in their largest military operation in years.
But the political agenda came back to the fore when Prime Minister Haider al-Abadi's cabinet announced last month that provincial elections would take place in September.
Demonstrators have argued that the Independent High Electoral Commission (IHEC) was anything but independent and that all of its members were affiliated to dominant political parties.
They also want a change in the electoral law, which favours those same parties over smaller ones.
The United Nations secretary general's representative in Iraq, Jan Kubis, on Tuesday warned against any threats to the electoral commission's members but called for swift electoral change.
Until it is replaced, the commission "must be enabled and empowered to fulfil its constitutional mandate free from interference and intimidation," he said in a statement.
He urged parliament to "finalise the ongoing review" of the election law and the electoral commission.
Kubis said that would follow the "principles of democracy and the rule of law when responding to the wishes of many Iraqis to introduce a profound reform of electoral process and institutions."
More protests are planned but Haidar al-Halfi, from Sadr's office, said the influential cleric had given orders to ensure all gatherings remained peaceful.
On Saturday, after a peaceful start to the rally, the protesters received a de facto green light to escalate the situation in the shape of a statement from Sadr saying that those who wanted to move towards the Green Zone could do so.
JOIN OUR PULSE COMMUNITY!
Recommended articles
Why do guys still masturbate when they have girlfriends?
I spent Sh800K - Vera speaks on begging for money to fund lavish Baby shower
Shika Simu yangu bro, we need you - Eric Omondi begs Eddie Butita
Cooking for Drake, collaboration with Wizkid and other things Tems revealed in a Twitter Q&A
British MP claims she didn't know her flat was owned by the Kenyatta family
Mulamwah and girlfriend Sonie welcome a bouncing Baby Girl (Photo)
Diamond Platnumz splashes Sh5.2 Million on new Gold & Diamonds Chain [Video]
Alikiba's Wife Amina reveals name of their 2nd born son for the first time
Mutua explains calling Lilian "Honey" in public even after divorce [Video]