Qatar 2022: Odds on Group F (Group winners, team to qualify and highest scoring teams)
The 2022 FIFA World Cup starts on Sunday in Qatar with group stage matches and countries will battle it out for the round of 16 qualification. The stage is set and the battle for who will be crowned the world champion is about to begin.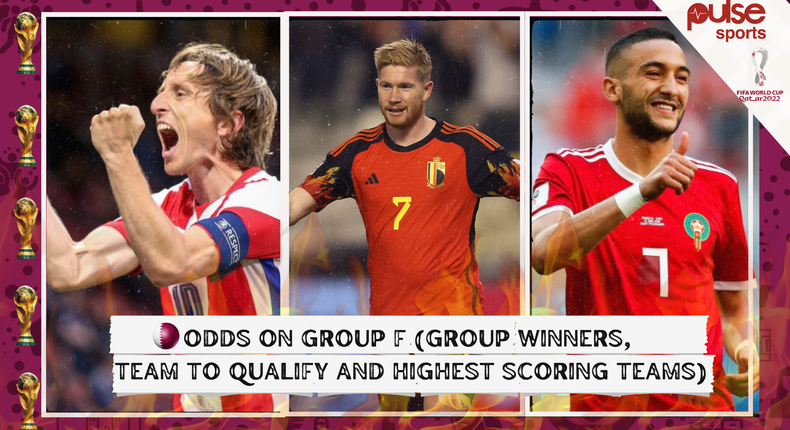 Belgium are one of the top countries in the world and have been placed in Group F. They have paired them with the likes of Croatia, Morocco and Canada, although they have a competitor in Croatia who are also going to challenge for the top spot.
There are other odds for other countries winning the group, such as Croatia @ 3.25 odd to win the group, Morocco @ 10.00 odd, Canada @ 12.50 odd.
We have tipped Belgium to come out on top in Group E but they should still be on the lookout for Croatia who are also a good side.
Odds on team to qualify in Group F
If we are to pick a team who will qualify with ease, it has to be Belgium. Roberto Martinez's team is one of the best teams going into this tournament. However, they will encounter a huge test from Croatia. Both teams have what it takes to qualify with ease in this group.
We can also find other options like Croatia to qualify @ 1.50 odd, Morocco @ 3.00 odd and Canada @ 3.65 odd to pick from.
We have tipped Croatia to qualify alongside Belgium in this group because of the quality and experience they possess in this tournament.
Odds on highest scoring team in Group F
Roberto Martinez's team is the best team in this group and they have one of the best creative midfielders and strikers in the world. They have scored lots of goals in the previous world cup and this should not be a problem for them when the tournament begins. We should also watch out for Croatia who were the finalists in the previous world cup.
There are some available odds on other countries in this group such as Croatia @ 2.80 odd as the highest scoring team, Morocco @ 10.00 odd and Canada @ 12.00 odd, but our prediction is on France to score the highest in this group.
Topics:
More from category
Qatar 2022: Betting tips for South Korea vs Ghana

Qatar 2022: Betting tips for Uruguay v Portugal

Qatar 2022: Betting tips for Cameroon v Serbia
Recommended articles
Ronaldo seeks revenge for 2018 as Portugal and Uruguay clash in Group H
Qatar 2022: Betting tips for South Korea vs Ghana
Germany remains bottom of Group E after entertaining 1-1 draw against Spain
Qatar 2022: One Neymar shy Brazil against Switzerland- Brazil vs Switzerland; Preview
FIFA World Cup 2022 goalscorers (Golden Boot rankings)
FIFA World Cup 2022: All results, fixtures, scores, live standings
Samuel Eto'o's potential World Cup winners look to bounce back against Serbia
'Most Overrated team of all time' -Reactions as Belgium slump to defeat against Morocco
Mask on - Why the following players are wearing masks in Qatar