Qatar 2022: Odds on Group H (Group winners, team to qualify and highest scoring teams)
The stage is set and the battle for who will be crowned the world champion is about to begin. The 2022 FIFA World Cup starts on Sunday in Qatar with the group stage matches and countries will battle it out for the round of 16 qualification.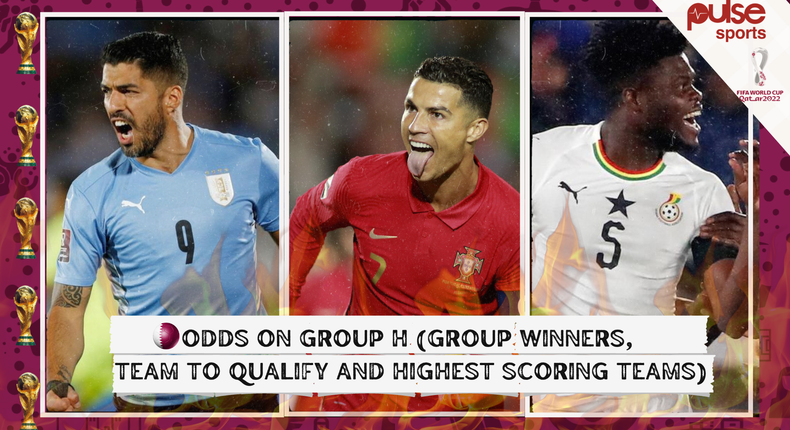 Portugal are a very good side with quality players and they have been Grouped with Uruguay, Republic of Korea and Ghana in Group H. This group should be easy for Portugal to qualify from but a country like Uruguay in the mix can be a challenge for them winning the group top spot. Uruguay are also a good side and should challenge Portugal for the top position.
There are other odds for other countries winning the group, such as Uruguay @ 2.85 odd to win the group, Korea @ 11.00 odd, and Ghana @ 14.00 odd.
We have tipped Portugal to come out on top in this group but they should still be on the lookout for Uruguay who also have a good side.
Odds on team to qualify in Group H
Portugal are sure to qualify from this group based on the quality of players in their squad. The Portuguese side has one of the greatest players in world football in Cristiano Ronaldo and he will be on point for them in this tournament. However, they still need to be at their best because a country like Uruguay and Korea will pose a threat in this group.
We can also find other options like Uruguay to qualify @ 1.41 odd, Korea @ 3.75 odd and Ghana @ 4.00 odd to pick from.
We have tipped Portugal to qualify alongside Uruguay in this group because of the quality and experience they possess.
Odds on highest scoring team in Group H
Cristiano Ronaldo has been the overall top scorer for Portugal and will be relying on his goal scoring prowess in this tournament. Portugal have enough firepower to be the highest scoring team in this group with the players like Bruno Fernandes, Bernardo Silva and Cristiano Ronaldo leading their frontline.
There are some available odds on other countries in this group such as Uruguay @ 2.80 odd as the highest scoring team, Korea @ 10.00 odd and Ghana @ 10.00 odd.
Our prediction is Portugal to score the highest in this group.
Topics:
More from category
Betting odds systems in different countries [Explainer]

Qatar 2022: Bonou penalty save turns a gambler into a millionaire

Qatar 2022: How you can bet and win on Brazil vs South Korea
Recommended articles
QATAR 2022: Morocco's moment of success, result of a 13-year plan
QATAR 2022: The most important stats from the 2022 World Cup so far
How much do you know about your favourite Premier League Club?
Cristiano snubbed by PSG and other stories making headlines in football today
Worker dies in Qatar at ongoing FIFA World Cup
Betting odds systems in different countries [Explainer]
Quarter-final preview: It's time to dance, but who will between Croatia and Brazil?
Luis Enrique 'flees' Spain after Qatar embarrassment
QATAR 2022: Ahead of historic quarter-final, fatigue, not Goncalo Ramos, is Morocco's great World Cup enemy