Eliud Kipchoge breaks world record in Berlin Marathon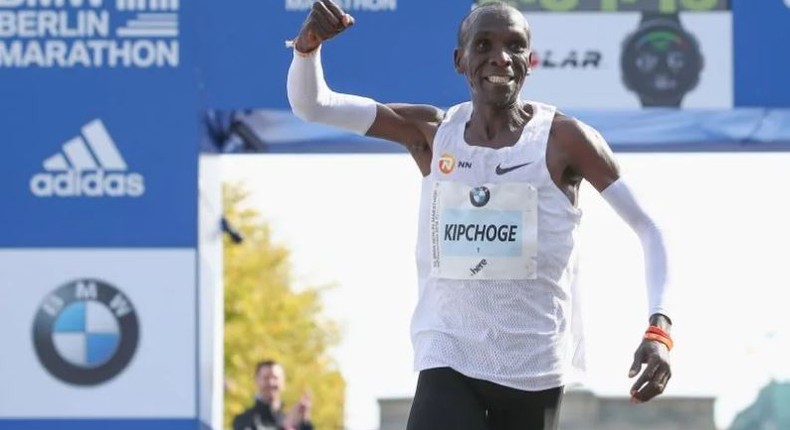 Eliud Kipchoge lived up to expectations, breaking his own world record and winning the Berlin Marathon, clocking 2:01:09.
The experienced athlete lowered the previous record which he set at the German capital in 2018 by 30 seconds.
The king of marathon made his intention clear early in the race, surging ahead and maintaining the lead to the finish line.
The world-record holder has been in top form, breaking records and cementing his place among the greats.
The win which saw him cross the tape ahead of Kenya's Mark Korir was his 15th in 17 career marathons to claim his place among the greats in marathon races.
In March this year, Kipchoge set a new course record at the Tokyo Marathon after crossing the finish line in two hours, two minutes, and 40 seconds (2:02:40).
Among his most-celebrated achievements was running a full marathon in less than two hours.
The decorated athlete set a new world record at the Ineos 1:59 Challenge in Vienna, Austria with millions across the globe watching the spectacular feat which saw Kipchoge cross the finish line in a record time of 1:59:40.
Hailed as one of the greatest athletes of all-time, Kipchoge did not disappoint at the widely-publicized event, treating millions of enthusiasts to a rare blend of tact, precision, experience and spectacular display of his prowess in the track in his quest to become the first person to run a full marathon in under two hours.
The world marathon world record holder first attempted the feat in 2017, finishing the race in a record-breaking time of 2:00:25 and missing the 1:59 mark by a mere 26 seconds.
More from category
Samba Boys dance around K Warriors in the R16 party, to face Croatia next

Croatia are shootout kings and the Samba Boys are dancing again

Qatar 2022: Another Andalucian battle in Qatar as Morocco prepare for grudge match against Spain
Recommended articles
Samba Boys dance around K Warriors in the R16 party, to face Croatia next
Croatia are shootout kings and the Samba Boys are dancing again
Qatar 2022: Another Andalucian battle in Qatar as Morocco prepare for grudge match against Spain
What Cody Gakpo has said about his future amid the Manchester United interest
Ex-Super Eagles and Manchester United star warns Cristiano Ronaldo over ₦92.3b Saudi Arabia move
Strange events that have happened at 2022 FIFA World Cup tournament
Armed robbers break into Raheem Sterling's UK home on night before win against Senegal
Why Madrid wants to kick out Hazard and other football stories making headlines today
Football matches to run length of HBO show in new modifications