LISTICLE
8 footballers who were treasured by rival fans
Iniesta and Pirlo are among the players who have made their haters admirers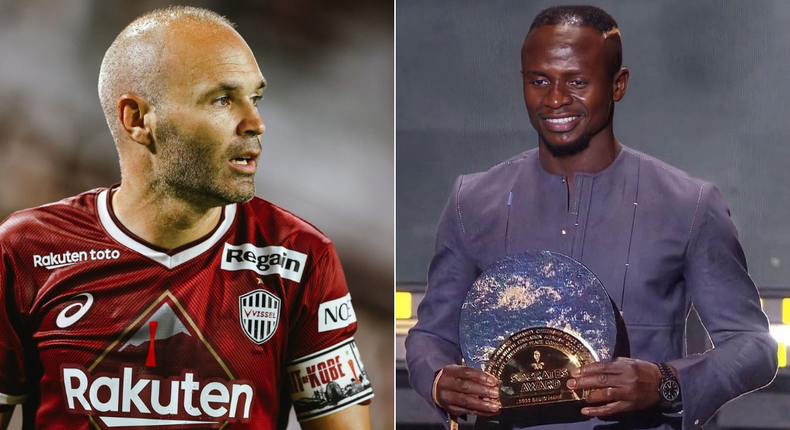 Football creates 'enmity' in situations where certain players score many goals past their rivals, especially in derbies.
It is hard to find rival fans loving a certain player but there there are some footballers who have managed to turn their haters to love them.
Andres Iniesta
Andres Iniesta lived the best of his life while playing for Barcelona no wonder he scored 35 goals for the Spanish giants while at the club.
Real Madrid are Barca's great rival but Iniesta made sure that Madrid fans love him and talk about him whenever Barcelona played.
Iniesta used to make superb crosses and assists in La Liga which is why he was loved. You can't just hate a complete package.
Andrea Pirlo
Former Juventus player and coach Andrea Pirlo is one of the best humans to grace the Serie A League in Italy and his legacy will always live on.
Pirlo switched from AC Milan to Juventus, a shaky move considering Juve and Milan are great rivals.
AFP
AC Milan fans didn't hate on him despite ditching them. They still love him since Pirlo is part of their great rich history. Once a legend, always a legend.
Sadio Mane
Sadio Mane received nothing but love in the English Premier League especially while playing for Liverpool.
Mane is a humble player who knows how to play his cards hence you can't just hate on him even if he scores against your team on a regular basis.
pulse senegal
Mane is one of those players who has foregone a luxurious lifestyle for the sake of helping his village back in Africa. He is a real African warrior.
Karim Benzema
It will be unfair to say that rival fans hate Karim Benzema especially after working very hard to put his name on the map.
Benzema won the coveted Ballon d'Or award recently ahead of Lionel Messi and Cristiano Ronaldo and everyone was pleased by his progress.
Karim Benzema pulse senegal
The majority of the Barca fans congratulated him when he was named the winner of the award. Sometimes football comes before enmity.
Zinedine Zidane
Former Real Madrid Zinedine Zidane manager made more friends than enemies during his time as a football in Spain and Italy.
AFP
Zidane scored spectacular goals and his retirement from professional football left many souls heartbroken.
Many football fans couldn't imagine that the Real Madrid 'engine' was going home on retirement.
Luka Modric
Liverpool fans hate Real Madrid because of Sergio Ramos yet they always give Luka Modric all the credit whenever the two sides clash.
Ramos injured Mohamed Salah during the 2018 UEFA Champions League finals and Madrid won the finals by 3-1 against Liverpool.
AFP
The Madrid midfielder has mastered the art of passing the ball and shooting. Modric is also a humble player who only shows his prowess by commanding the midfield.
Zlatan Ibrahimovic
Zlatan Ibrahimovic is among the most successful footballers in the current era and he has played in most of Europe's elite leagues.
AFP
Ibrahimovic has pride and it is what makes his fellow teammates and rivals love him. The way he articulates his points is just funny. There is no way you can hate on the lion.
David Silva
Former Manchester City footballer David Silva is among the best midfielders that the EPL has ever produced.
AFP
Manchester United fans loved him despite playing for their bitter rivals and neighbours in the PL.
More from category
Leopards, Gor fire blanks in dull Mashemeji Derby

AFC Leopards aim to end seven-year drought against Gor Mahia

A clash of titans as AFC Leopards face Gor Mahia in Mashemeji Derby
Recommended articles
Tuwei calls for more events to be staged in grassroots in search of raw talent
Police beat champions Butali to finish second in hockey league
Leopards, Gor fire blanks in dull Mashemeji Derby
AFC Leopards aim to end seven-year drought against Gor Mahia
Kenya to host 2023 World Rugby Under-20 Trophy Championship
A clash of titans as AFC Leopards face Gor Mahia in Mashemeji Derby
Are you well-informed about your favourite La Liga club?
Local Creative Industry can aid in the fight against doping, says Korir
Achieng says winning LG/SJAK reward is great inspiration ahead of Belgium Championship