4 French players who have won the prestigious Ballon d'Or before Benzema
The Real Madrid star beat the likes of Kevin De Bruyne, Robert Lewandowski, and Sadio Mane to win the award.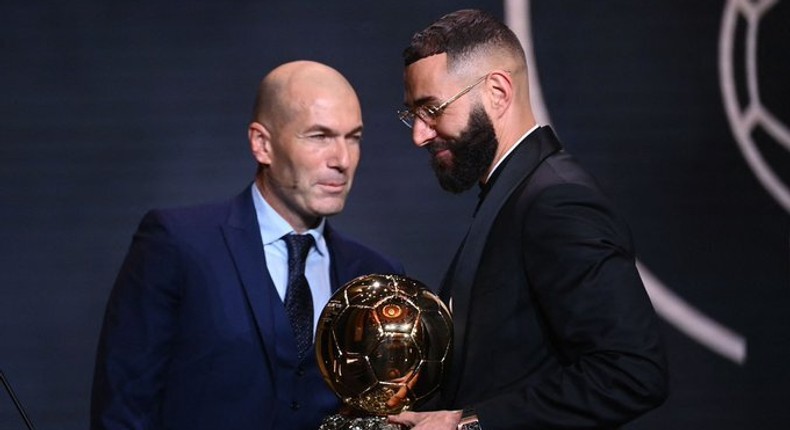 Karim Benzema is the winner of the 2022 Ballon d'Or, becoming only the fifth Frenchman to do so.
Benzema who helped the Los Blancos to win the 2021/2022 UEFA Champions League(UCL) won the award at 34 years old and is the oldest winner since Stanley Matthews in 1956.
Paris Saint Germain (PSG) star Lionel Messi and Manchester United's forward Cristiano Ronaldo had won 12 of the last 13 Ballon d'Ors with Real Madrid's Luka Modric winning as the sole outlier in 2018 but Messi was not even nominated for the 2022 award.
As fate would be the struggling United forward, Ronaldo finished 20th in this year's nomination for the award.
The Ballon d'Or, which is awarded by the French publication France Football, is one of the most prestigious individual honors in the game.
"This makes me really proud, all the work I did, I never gave up,".
"I had two role models in my life, Zidane and Ronaldo as well. I always had this dream in my mind that everything's possible. There was a difficult period when I wasn't in the French team but I worked hard and never gave up, kept my head down, and enjoyed playing football.
"I'm really proud of my journey here, it wasn't easy, it was difficult, for me and my family. To be here today, was the first time for me. I am just really, really happy, thanks to my teammates, with Real Madrid and the national team." Benzema said after winning the award.
French Players who have won the awards
This French legend won the Ballon d'Or in the year 1958. He was a part of the Real Madrid team which won the European Cup in 1956-57, 1957-58, and 1958-59.
2. Michel Platini, 1983, 1984, 1985
The first player to win the Ballon d'Or on three successive occasions, Michel Platini, who was nicknamed The King, featured in 72 matches for France where he scored a total of 45 goals
3. Jean-Pierre Papin, 1991
In 1991, another French player found himself the winner of the Ballon d'Or. This time it was Jean-Pierre Papin, who was playing for Marseille when he was adjudged the winner of the award in 1991
Just like 1986 belonged to Diego Maradona it was Zinedine Zidane who ruled in 1998. Widely considered one of the greatest footballers of all time, Zidane captained the French side to a World Cup triumph that year, netting in both goals for Les Bleus in the final.
Topics:
More from category
Kylian Mbappe: Nike equip French star with new signature boots ahead of World Cup last 16

Qatar 2022: Argentina vs Australia: The Goat vs 11 Socceroos; Preview

FIFA World Cup Qatar 2022 Fixtures
Recommended articles
Kylian Mbappe: Nike equip French star with new signature boots ahead of World Cup last 16
Qatar 2022: Argentina vs Australia: The Goat vs 11 Socceroos; Preview
FIFA World Cup Qatar 2022 Fixtures
Pulse of the Day: Impressive Atlas Lions & the compelling suspense in Group E
Cameroon vs Brazil: Uphill battle for the Indomitable Lions; Preview
FIFA World Cup 2022 goalscorers [Golden Boot rankings]
Day 12 Roundup: Belgium, Germany tell World Cup 'e go be' as Morocco, Japan top their groups
Why Roberto Martinez is no longer coach of Belgium
FIFA World Cup 2022: All results, fixtures, scores, live standings