UEL
'Hey 701'- Cristiano Ronaldo unlocks another milestone
Cristiano Ronaldo is tallying his goals afresh after unlocking another milestone in his career.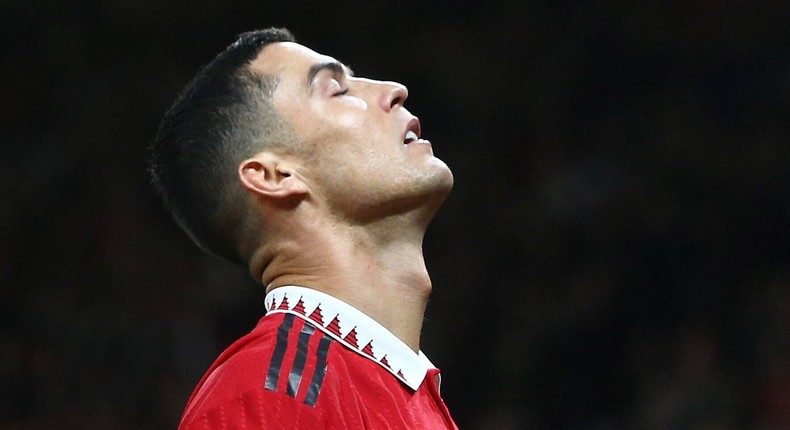 Cristiano Ronaldo was the centre of attraction throughout the whole game after coming from the suspension that Erik ten Hag had approved due to his arrogance when United played Tottenham at Old Trafford on October 19, 2022.
Ronaldo had walked off the pitch even before the final whistle against Tottenham an action which angered Ten Hag as he suspended Ronaldo against Chelsea hence postponing goal number 701 for Ronaldo.
Ronaldo has been struggling at United this season hence he has not been a regular starter at Old Trafford.
After Ten Hag confirmed that Ronaldo was going to start against Sheriff FC, most of the United fans were hoping that the forward would finally end his drought and score goal number 701.
The goal had taken so long to come but then as they always say, better late than never. This goal will boost Ronaldo's confidence in some way after having a tough start this season.
AFP
Other United's goal-scorers were Diogo Dalot in the 44th minute and Marcus Rashford in the 65th minute. United could have scored many goals and this just shows that they need to improve on their finishing.
United will face Real Sociedad on November 3, 2022, for their last match of the group stage as they await the draw for their knock out fixtures.
More from category
Ababu Namwamba announces the return of 'Big Vic' to Harambee Stars

Why Ten Hag is unhappy with Man United players and other stories making headlines today

Giants who have suffered unprecedented defeats in the World Cup
Recommended articles
Ababu Namwamba announces the return of 'Big Vic' to Harambee Stars
Why Ten Hag is unhappy with Man United players and other stories making headlines today
Giants who have suffered unprecedented defeats in the World Cup
Erik ten Hag breaks silence weeks after the Ronaldo saga
Qatar 2022: Bonou penalty save turns a gambler into a millionaire
La Liga: 'I'd love him to stay personally, but I don't think that's the player's idea' – Atletico Madrid chief confirms Joao Felix exit talks
Eden Hazard announces retirement from international football
What makes a penalty a good penalty
Power up! Why balls are charged before use in the 2022 FIFA World Cup