Sports hooliganilism re-surfacing in Kenyan football
Gor Mahia fans attacked their own security officials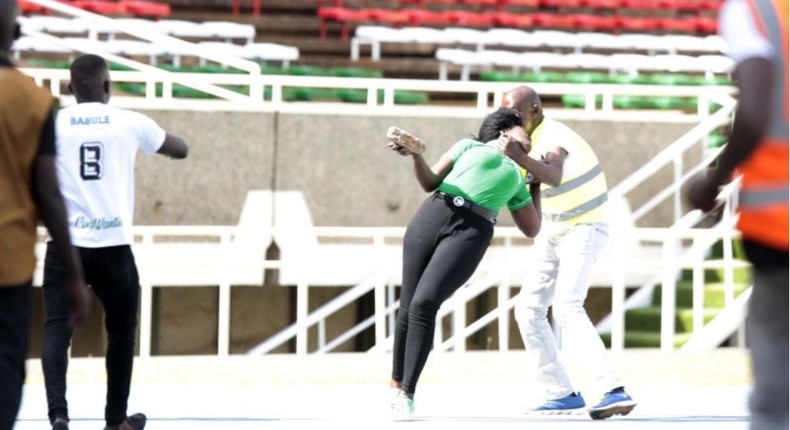 The Football Kenya Federation (FKF) premier league match between Gor Mahia and Vihiga Bullets at the Moi International Sports Centre, Kasarani, ended prematurely after chaos erupted.
The root of the violence is said to have been a fan who allegedly failed to pay gate charges and jumped over the fence in order the watch the match.
However, Gor Mahia's head of security Lawrence Odhiambo reportedly beat the fan in question, an act that forced other spectators to intervene.
Following the unfortunate incident, two fans and Odhiambo were rushed to hospital after sustaining injuries.
Vihiga bullets failed to resume the second half of the match despite pleas from the Gor management. The visitors who had taken refuge in their bus blamed Gor for the chaos and were escorted by police out of the venue.
Gor Mahia players in Training
"We had to protect our players. If Gor fans can fight amongst themselves, it shows even worse might happen to us," Vihiga bullets head coach Abdalla Juma said.
Sports hooliganism in Kenya
The chaos witnessed revives memories of a time football in Kenya was marred by chaos and violence. The sports hooliganism extends beyond the Kenya borders.
In 1989, fans used force to gain entry into the Hillsborough stadium in Sheffield during the FA Cup semi-final between Nottingham Forest and Liverpool. At least 93 football fans were killed in the ensuing melee described as the worst ever sporting disaster in Britain's football history.
Back home, every major stadium has had a taste of hooliganism. In 2009, FIFA banned Nyayo Stadium and Kasarani Stadium from hosting any international matches after fans threw objects inside the field in a world cup qualifiers match between Kenya and Nigeria at Kasarani.
ece-auto-gen
Matches between Gor Mahia and AFC Leopards popularly known as the Mashemeji derby were used to violent scenes during the matches and post matches.
Business operators around City stadium had to close down during the Mashemeji derby fearing looting and violence that came post-match.
The two clubs have been fined or deducted points more than once for not being able to control their fans in matches.
More from category
Derby Fallout! Ronaldo could end 'last dance' at Man United this January

Rodgers calls for James Maddison to be included in England's World Cup squad

Xavi charges Barcelona to fight for 2nd place against Inter Milan
Recommended articles
Derby Fallout! Ronaldo could end 'last dance' at Man United this January
Rodgers calls for James Maddison to be included in England's World Cup squad
Xavi charges Barcelona to fight for 2nd place against Inter Milan
Catch up with today's top trending football news
Dembele the odd man as Barca shares lovely training picture ahead Inter tie
Man United target left out of squad for blockbuster Champions League tie