QATAR WORLD CUP
Harry Kane to wear OneLove captain's armband in Qatar World Cup even if FIFA prohibits it
The Football Association announced its intentions to wear the armband in September 2022 as part of an anti-discrimination initiative and in support of the LGBTQ+ community. FIFA is yet to sanction use, though permission has been requested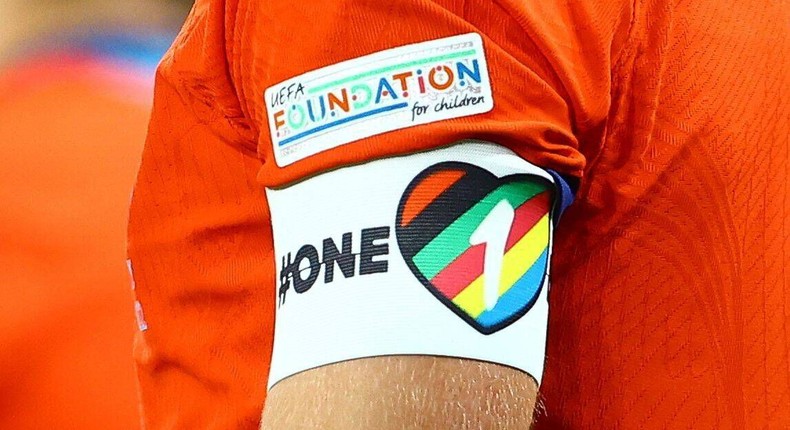 The FA announced on September 2022, that England would wear a rainbow captain's armband during the 2022 Qatar FIFA World Cup tournament as part of an anti-discrimination initiative, and in support of the LGBTQ+ community.
The FA is determined to defy all odds to make the England captain wear the armband even if it risks FIFA fines. Captains from nine European countries are also planning on wearing the armbands at the World Cup.
The nine countries include Belgium, Denmark, France, Germany, Norway, Sweden, Switzerland, Wales and the Netherlands.
AFP
Permission is required from FIFA before wearing the armbands. The UEFA Working Group in Qatar asked FIFA for permission three weeks ago and a response is yet to be communicated.
A delegation from the group has been tasked with the establishment of a welfare centre in Doha for migrant workers as well as discussing how migrant workers and their families will be compensated.
The delegates will also have a meeting in Zurich as they intend to ask FIFA for their verdict in regard to the captains' armbands on October 12, 2022.
More from category
Ronaldo seeks revenge for 2018 as Portugal and Uruguay clash in Group H

Germany remains bottom of Group E after entertaining 1-1 draw against Spain

Qatar 2022: One Neymar shy Brazil against Switzerland- Brazil vs Switzerland; Preview
Recommended articles
Ronaldo seeks revenge for 2018 as Portugal and Uruguay clash in Group H
Qatar 2022: Betting tips for South Korea vs Ghana
Germany remains bottom of Group E after entertaining 1-1 draw against Spain
Qatar 2022: One Neymar shy Brazil against Switzerland- Brazil vs Switzerland; Preview
FIFA World Cup 2022 goalscorers (Golden Boot rankings)
FIFA World Cup 2022: All results, fixtures, scores, live standings
Samuel Eto'o's potential World Cup winners look to bounce back against Serbia
'Most Overrated team of all time' -Reactions as Belgium slump to defeat against Morocco
Mask on - Why the following players are wearing masks in Qatar