KARIM BENZEMA
Real Madrid striker wins men's Ballon d'Or 2022
Karim Benzema has claimed the Ballon d'Or for the first time in his career after a sensational season that saw him claim LaLiga and Champions League glory with Real Madrid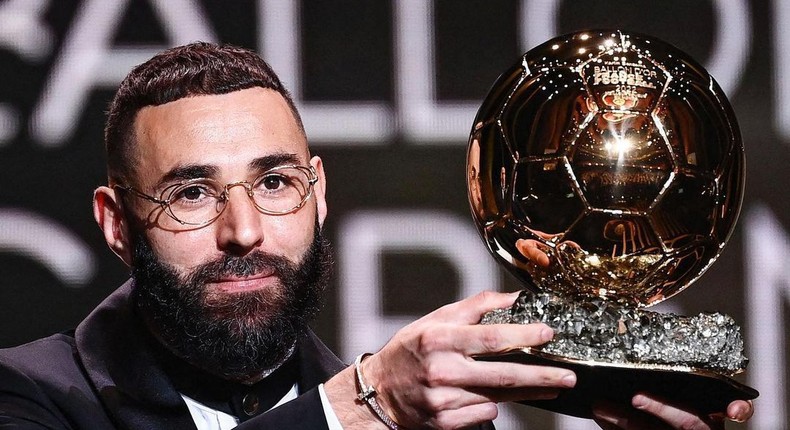 Karim Benzema has won the Ballon d'Or for the first time after leading Real Madrid to a sensational double. He is the first Frenchman to claim the award since Zinedine Zidane's success back in 1998.
The former Lyon man, who signed for Madrid in 2009, had for much of his career played second fiddle to Cristiano Ronaldo, but has flourished as his side's main man in recent years.
"This prize in front of me, makes me really proud. When I was young, I never gave up, it was a childhood dream. I had the motivation, I had two role models in my life in Zidane and Ronaldo. I had always had this dream that everything is possible. There was a period where I wasn't in the French team but I never stopped working, I'm really proud of my journey here and it was not easy.
"It was also a difficult time for my family, to be here, my first time, I'm happy and I'm going to keep going. I want to thank all my teammates at Real Madrid and the national team, my coach, the Real Madrid president. I always had the support from Jean-Michel Aulas (Lyon president). The Ballon d'Or is an individual prize but it is still a collective one for everyone who's helped me win it." Benzema stated after winning the award.
AFP
Benzema came fourth in last year's Ballon d'Or, but has improved notably and becomes the eighth man to claim the Golden Ball whilst playing for Real. Their most recent winner prior to tonight was Luka Modric but the likes of Cristiano Ronaldo, Fabio Cannavaro and Alfredo Di Stefano have also been handed the individual accolade.
More from category
Qatar 2022: Netherlands vs Argentina: A History of World Cup classics

Ababu Namwamba announces the return of 'Big Vic' to Harambee Stars

Why Ten Hag is unhappy with Man United players and other stories making headlines today
Recommended articles
Ababu Namwamba announces the return of 'Big Vic' to Harambee Stars
Qatar 2022: Netherlands vs Argentina: A History of World Cup classics
Why Ten Hag is unhappy with Man United players and other stories making headlines today
Giants who have suffered unprecedented defeats in the World Cup
Erik ten Hag breaks silence weeks after the Ronaldo saga
Qatar 2022: Bonou penalty save turns a gambler into a millionaire
La Liga: 'I'd love him to stay personally, but I don't think that's the player's idea' – Atletico Madrid chief confirms Joao Felix exit talks
Eden Hazard announces retirement from international football
What makes a penalty a good penalty