Good news for Team Kenya ahead of the Hong Kong sevens
The new kit has the same design across all the respective representative of the national squads.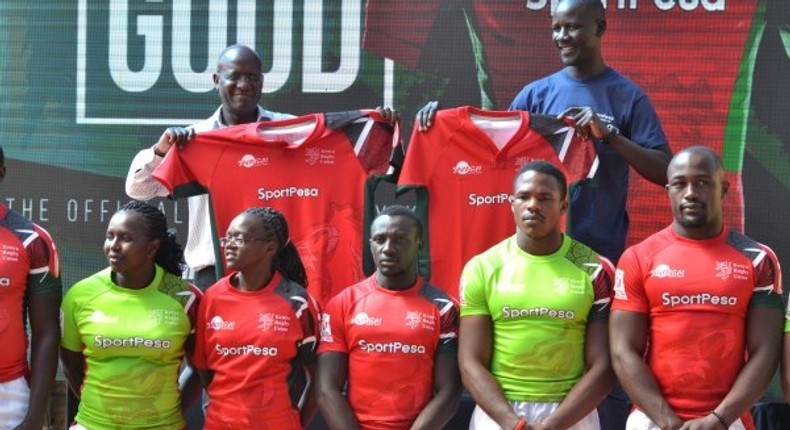 The Kenya Rugby Union has teamed up with SportPesa and Samurai to unleash New Jersey for the Kenya rugby team.
The inspiration for both the home and away shirts was drawn from African tribal body painting, along with the colours of the country's flag, proudly adhering to the roots of the Kenyan people.
The in-house design team at Samurai Sportswear worked over several months in conjunction with a specialist external creative artist to ensure that Kenyan culture, traditions and heritage are fully represented in the Kenya Rugby Union shirts for 2017.
According to the KRU Chairman Richard Omwela they are looking forward to see the Kenyan team use the new kits at the Hong Kong sevens that is coming up on April 7-9 and future assignments.
On the other hand SportPesa CEO Ronald Karauri expressed his joy on the strides the rugby team has made so far.
"It is a demonstration that when true talent is supported and motivated the end result is outstanding." Said Karauri.
He added that SportPesa is committed to support and sustain sports development in the country, by creating a platform where local coaches and administrators will benefit.
The colours that are featured on the shirt are all said to have different meanings. Black is to represent the people of the Republic of Kenya, whilst red is for the blood shed during the fight for independence. Green is for the country's landscape and natural wealth and white is used to symbolise peace and honesty.
A pattern of dots has been placed on the left sleeve of the shirt, along with the traditional Maasai shield, to create an image of the Kenyan flag.
The Maasai shield, with the spears, is said to represent the defence of the country's freedom. The African lion taken from the KRU logo, placed across the body of both shirts, is representative of the courage of the Kenyan people, as well as highlighting the country's proud association with the animal.
These jerseys not only look and feel good, they also enable a player to unleash their full potential, which contributes to the team's success.
More from category
How Wojciech Szczęsny embarassed Messi in the World Cup

Winner takes all as Croatia and Belgium go to war in search of qualification

'Your GOAT could never' - Reactions as Messi's Argentina defeat Poland to qualify for World Cup knockout stage
Recommended articles
How Wojciech Szczęsny embarassed Messi in the World Cup
Winner takes all as Croatia and Belgium go to war in search of qualification
'Your GOAT could never' - Reactions as Messi's Argentina defeat Poland to qualify for World Cup knockout stage
FIFA World Cup 2022: All results, fixtures, scores, live standings
World Cup Day 11 Live Blog - Poland vs Argentina, Saudi Arabia vs Mexico
'It's absurd' - Serbia star Dušan Vlahović rubbishes rumors of sleeping with his teammate's wife
Tunisia crash out of World Cup despite dramatic shock win over World Champions France
Top 10 Video games that made our 2022 [Pulse Sports List]
Qatar 2022: 2 easy betting tips and correct score for Cameroon vs Brazil