'My dad never told me he loved me until' - Kamaru Usman makes confession about the role of his father to become UFC Champion
Kamaru Usman explains why his dad never said 'I love you' to him, compares himself to basketball greats Michael Jordan and Kobe Bryant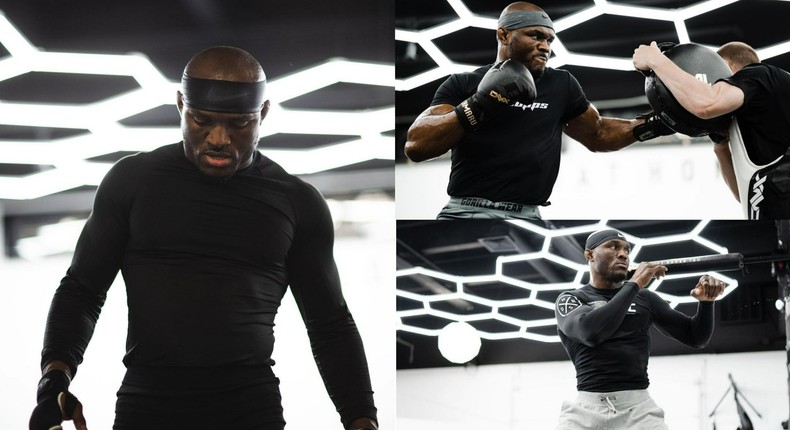 Born in Auchi Nigeria, Usman was brought up to understand the culture and how he represented the country on the global stage.
On the podcast, Usman the reigning Ultimate Fighting Championship (UFC) welterweight title holder explained how the way his father brought him up helped in his journey to the top of the sport.
ALSO READ
Usman on Michael Jordan and Kobe Bryant comparison
On the podcast, Usman started off by explaining his mentality about the sport.
He dissected the importance of anger that revealed his growth throughout the years.
According to Usman, after getting to the pinnacle of the sport, he now has to do research about some of the greatest athletes of all-time to stay on top.
Pulse Nigeria
He said, "I've grown a lot in the last three years, I'm 35 now. In the last three years I've grown exponentially to where now I research if I don't really know certain things or I feel a certain way I'll go research.
'What was the best doing, what was MJ doing what he was playing you know what was Kobe do what was all these athletes what were they doing at that time so I started researching."
Usman on his father
Usman also went on to give an explanation on how he was brought up in Nigeria and when his family moved to the United States of America (USA).
The UFC welterweight star started off detailing his fight with Gilbert Burns and then explained the importance of family.
He said, "The biggest thing is that the difference is I was there long enough to get the culture to where I came here and now seeing how things are here now.
"It's kind of borderline sad to me because that's the dynamic of how it is here. You 18, get out, go get you a job, you're a man now or you're an adult get out there.
"It's very very common to have first second third generation all in the same household you know figuring it out.
Pulse Nigeria
Usman explained that being raised by a Nigerian father the goal was always to get his approval.
About his dad, He said, 'My dad was in the military, he was a major in the army in Nigeria.
"My dad was just so hard he was one of those dudes. My dad never told me he loved me until I think I remember being an adult before he actually said that.
Pulse Nigeria
"That didn't mean I didn't know my dad loved me. I knew my dad loved me he didn't have to say it to me but I knew.
"As Africans parents when we immigrate here you know it's a sensible thing we want our children our offspring's to go into avenues that are going to feed them forever to where they don't have to struggle."
According to Usman, the lessons his father taught him are still beneficial in his reign as UFC champion.
More from category
Alex Pereira knocks out Israel Adesanya again

Leon Edwards gave me a 20-minute nap – Kamaru Usman

Kamaru Usman explains why his 8-year-old daughter Samirah will keep coming to fights
Recommended articles
FIFA World Cup 2022 goalscorers (Golden Boot rankings)
Day 12 Roundup: Belgium, Germany tell World Cup 'e go be' as Morocco, Japan top their groups
Why Roberto Martinez is no longer coach of Belgium
FIFA World Cup 2022: All results, fixtures, scores, live standings
Qatar 2022: Cash-out with this betting tips for England vs Senegal
Qatar 2022: Cash-out with this betting tips for Netherland vs USA
Belgium's not-so golden generation crash out after disappointing Croatia draw
Nike team up with Liverpool shareholder LeBron James in honour of Merseyside club
'I won't apologise!'- Luis Suarez to Ghana