Athlete's widow reveals identity of woman who strangled her
Triza Njeri Wanjiru found the woman in her husband's bed on that fateful night he died after falling off the balcony.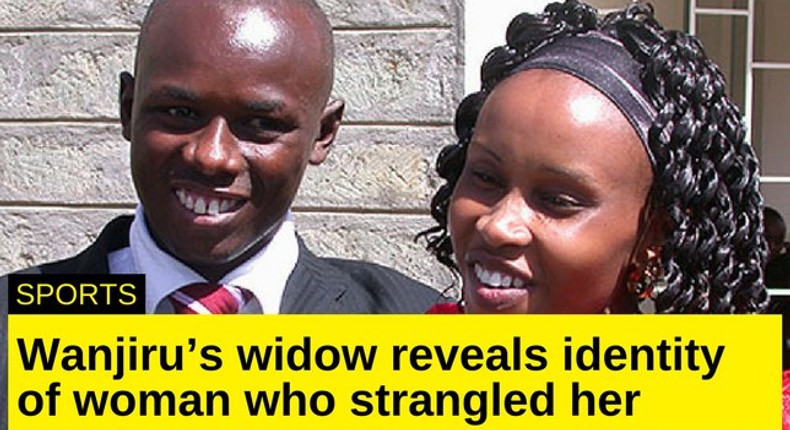 Samuel Wanjiru was said to have jumped off or fallen off the balcony after an explosive fight with his wife Triza Wanjiru.
However, the possibility of suicide was ruled out by former government chief pathologist Moses Njue who said that the height he fell from 'was not enough to generate momentum to kill him.'
"I am convinced that the deceased was hit by another person after he fell on the ground."He said in a court testimony.
Fast forward to a few years after his death, his wife Triza has taken the stand in a court session presided over by Chief Magistrate Francis Andayi.
Triza divulged that she found the woman who has now been identified as Jane Nduta in her matrimonial bed after coming home from the house of her husband's lorry driver.
"When I came back home from the house of my husband's lorry driver, James Maara Mahia, at around 10 pm, I found Kamau sleeping with a strange woman in our bedroom." She said as quoted by Standard Newspaper.
And a scuffle ensued after the woman claimed that the house located in Muthaiga Nyahururu was hers. Things then spiralled out of control after Nduta pounced on her."Nduta jumped from the bed and grabbed my neck. The corner lights were on and I could see her." She said.
All the while Wanjiru lay on his bed facing the ceiling seemingly unmoved by the confrontation that was going on. Njeri then left the room and padlocked it before locking the metal gate that divided the floor where the bedroom was located and the downstairs.
She decided to flee and while she was fleeing the house Wanjiru went to the balcony and allegedly demanded that she opens the door but she didn't because she feared he would kill her.
Njeri learnt of her husband's fatal fall through a phone call from James Maara Mahia who informed her that her husband had fallen off the first-floor balcony. She later went and recorded a statement with the police before leaving for her house then returning to the station where she learned that her husband had passed on.
More from category
Graham Potter receives huge boost as midfield maestro returns to training for Chelsea

Catch up with today's top trending football news

Black Stars win first game in 5, Samba Boys dance around 10-man Eagles
Recommended articles
Graham Potter receives huge boost as midfield maestro returns to training for Chelsea
Catch up with today's top trending football news
Black Stars win first game in 5, Samba Boys dance around 10-man Eagles
VIDEO: Super-sub Lionel Messi scores 2 goals as Argentina beat Jamaica
Watch Liverpool's €100m man reply trolls with a thumping header vs Canada
10 interesting football fun facts