This is why NOCK elections have been cancelled at last minute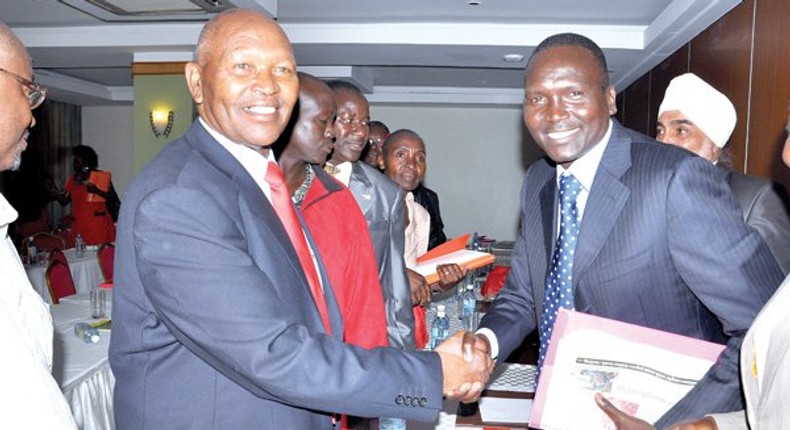 NOCK President Kipchoge Keino calls off the NOCK elections after Kenya Tae Kwondo Association obtain a court order.
The Nock Election that were set to go down has been adjourned following a court injunction filed by Kenya Tae Kwondo Association
According to the letter that has been served to the board in charge of the Nock Elections; the court has treated the application dated may 4th 2017, as certified as urgent.
"It is hereby ordered that the Application dated 4th may 2017 be and is hereby certified as urget. That the application be served on the respondents and all other interested parties forthwith," read the statement.
The court order states that the application filed will be heard on May 8th 2017.
George Wasonga, an official from the tae kwondo association, presented order to the Nock officials early Friday, forcing Keino - who was not going to defend his seat - to call off the polls at the Panari Hotel in Nairobi.
KTKA sought an injunction, stopping the process after the Centre for Multiparty Democracy-Kenya (CMD) barred them alongside Kenya Cycling Federation from taking part in the process.
CMD had stopped the two federations from participating in the elections over factional wrangles.
In an order issued on Thursday and signed by deputy registrar's office, the High Court gave a faction led by Suleiman Sumba and George Wasonga a reprieve when they stopped the elections pending a hearing on Monday, May 8.
Nock deputy treasurer Stephen Soi and deputy Secretary James Chacha, who were among officials who were proposed by the two federations for re-election, were also technically locked out from Nock's polls that were to coincide with the General Assembly.
More from category
'So Underwhelming' - Reactions Netherlands conquer 'toothless' Belgium in Nations League

'Our Magician' - Fans hail Christian Eriksen as France fall to Denmark

'Who is Beyonce?' -Football fans on social media slam Twitter user after claiming that the popstar is famous than most footballers
Recommended articles
'So Underwhelming' - Reactions Netherlands conquer 'toothless' Belgium in Nations League
'Our Magician' - Fans hail Christian Eriksen as France fall to Denmark
'Who is Beyonce?' -Football fans on social media slam Twitter user after claiming that the popstar is famous than most footballers
The millions Eliud Kipchoge made in Berlin after setting new world record
Families demand 'millions' from FIFA as compensation for migrant labourers who died ahead of World Cup
How Drogba, Messi, and other footballers have paid tribute to Roger Federer following his retirement