Tales of sorrow, frustrations and anguish of Kenyan graduates
"Many employers shy away from hiring fresh graduates for lack of great ability in what they do."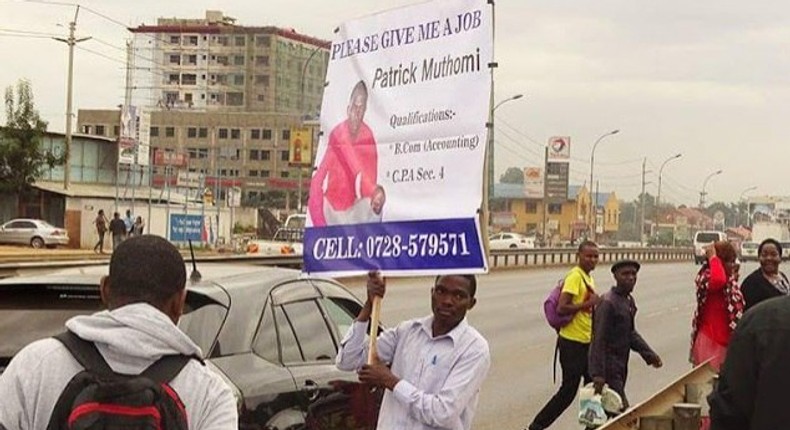 Kenyas graduates read from the same script, when it comes to tarmacking, shortly after graduation.
Armed with hope and determination, Kenya's youth flood numerous job sites, high on expectations of fulfilling their life long dreams of gaining meaningful employment and high paying jobs after spending years at the university.
Sadly, after some time, the hope and excitement slowly turns to desperation and bitter disappointments once reality dawns on them that the white collar nine-to-five jobs they had longingly envisioned are not as easy to come by as expected.
Samuel Ruigu, the founder of Mwea-based Safi Organics, recalls a time in campus when he was strictly focused on graduating, getting a job, work and retire. That was never to be. He quickly opted to stop searching for jobs and instead made up his mind to have a company. He's absolutely busy, selling organic manure to Mwea residents. His full time job now involves turning rice husks into organic fertilizers. It pays off his bills.
Irene Wanjiku of Rexe Roofing recalls a very bumpy ride to her current company. She is celebrated for her success, but regrets why people do not mention her struggles, anyway.
"While being a nanny wasn't my thing, surprisingly, my major breakthrough came when I was told by my uncle to baby seat alongside serving customers in his shop."
When the Judicial Service Commission published names of the shortlisted applicants in preparation for the interviews for the post of Chief Justice and President of the Supreme Court of Kenya, 11 names popped up, but one Paul Andrew Wanjala, from Bungoma, stood out sharply.
Mr Wanjala in an interview with the media argued that the 15-year-expericence requirement was a ploy to "lock out the youth from applying for such jobs, as there is no legal justification for it."
After the pangs in life, Mr Wanjala resorted to being a carpenter in Nairobi, shortly after leaving Moi University's Law School for lack of fees.
A look into Kenya's unemployment plight
Kenya's unemployment rate has shot through the roof as compared to any other East African country.
The United Nations Development Programme (UNDP) report on Status of Kenya's unemployment says that nearly four in every 10 Kenyans of working age have no jobs — the worst level of unemployment in the region.
The report released in March 2017, says that 39.1 per cent of the Kenyan population of working age are unemployed compared to Tanzania's 24 per cent, Ethiopia's 21.6 per cent, Uganda's 18.1 per cent and Rwanda's 17.1 per cent.
Economists opine that Rwanda and Ethiopia are set to catch up with and in fact, surpass Kenya's lead in regional and global labour markets.
Brighter Monday, a local firm which deals in advertising, interviewing and placement of people in various jobs in Kenya, advertises 38,000 jobs a year, with over "48 per cent of such jobs being in the service and customer care industry, closely followed by IT and Accounting."
"Unfortunately graduates lack work experience. Many of them do not want to start with internships or volunteering. They need to sharpen their skills by attending trainings, joining free programs supported by government or private sector e.g. Ajira skills (ICT ministry) or Digital skills training by google," Brighter Monday CEO, Mr Mutuma Emmanuel said.
Speaking to P Live Kenya, Mutuma added that the that youth miss out on opportunities for applying for jobs that they don't qualify.
While it may not be readily verifiable by P Live Kenya, the Kenya National Bureau of Statistics (KNBS) on its part, in a recent report, indicated that the economy created 832,000 jobs in 2016, of which  10 per cent were formal jobs and 90 per cent were casual.
Every year, Kenya has at least one million graduates holding certificate, diplomas and degree in various fields.
Why the high unemployment rate?
P Live has delved into querying experts on what might be the major causes of unemployment. Interestingly, the youth who spoke to P Live had common issues at hand.
Kenya's job market is murky. Every graduate has their own tales, all ending in a common conclusion  – frustrating. Economic crimes have sabotaged and brought about misery amongst the youth. The most recent being the National Youth Service Scandal in which tens of hundreds of youth resumed crime when the project came to a halt.
Corporate Staffing Services Limited's Certified Managing Partner and HR Consultant, Leadership & Career Coach Mr Perminus Wainaina opines that the menace has taken a toll on the quality of workers available. He argues that just because someone is able to give a bribe to have the job, may jeopardise the performance of the employee.
"We have the issue of corruption where graduates have been forced to pay to secure employment especially in the public service," he notes.
Kenya's turbulent investment climate pushed over 300 people to the streets after the closure of Cadbury Kenya. In October last year, a further 100 Kenyans lost their jobs after the 47-year-old Eveready East Africa, the biggest dry-cell battery maker in the region, shut its Nakuru plant.
Recently, Equity Bank and KCB Bank retrenched its 400 and 500 staff respectively, citing the capping of interest rate law and a "changing operating environment."
Colgate Palmolive ceased manufacturing in Kenya in 2006. It tendered out its plant amid a review of its marketing and distribution strategies. Reckitt Benckiser, a home and personal care giant, shut its crucial manufacturing plant in Kenya. Orbit Chemical Industries Ltd later took over its business.
Mr Wainaina argues that many employers lament about lack of "job-ready" graduates and there is growing need to retrain them to fit in a given culture.
This means, either such graduates have mismatched priorities or are purely not ready to face the challenges in their areas of study.
"In some cases, graduates have to undergo a further training to literally bring them up to speed; which takes a lot of time and financial resources. Employers, therefore, shy away from hiring fresh graduates," he said.
Kenya is currently grappling with the twin challenge of repairing the damage caused by the economic and social crisis and creating quality jobs for tens of thousands of new graduates from mushrooming universities and other tertiary institutions.
Kenya has over 600,000 active job seekers in the market. All these, force to fit in the 30,000 job volume advertised by around 15,000 companies in Kenya.
Many of these graduates, Mr Wainaina adds, are white-collar job prepared, as opposed to causal jobs. Kenya offers many blue-collar jobs.
The youth need to understand that they have to stand out and showcase value as there's stiff competition.
"Having a certificate is not enough these days. Employers are keen on soft skills such as leadership, ability to interact with different people, initiative, someone who is flexible etc. The youth should also not be choosy. Even if one is a mechanical engineer and their first opportunity is in customer service they should go for it as they are skills to be learnt," notes Mr. Wainaina.
Massive joblessness, especially among the sprightly and innovative youth, is a drag on the economy because it forces unemployed adults to depend on the small working class, stretches family resources and consumes savings for future investments.
Two major political outfits – National Super Alliance and Jubilee – have presented their views in their manifestos on how to deal with the rapidly growing monster, which blends perfectly with extremism and crime.
In the manifesto presented in both 2013 and now 2017, President Uhuru Kenyatta led Jubilee party proposed to create 1.3 million jobs every year and work with county governments to establish at least one industry in every county. To establish a government sponsored apprenticeship programme of up to 12 months for all university and TVET graduates.
The National Super Alliance coalition (NASA) on its part, proposed to implement major projects that would translate to hundreds of jobs for the youth nationwide.
Recommended articles
Linet Toto excited as she unveils sleek ride after 1 month in office [Photos]
Aliko Dangote the richest man in Africa just got richer
Africa's richest man Aliko Dangote poised to overtake another Russian billionaire Vladimir Lisin on Bloomberg billionaires list
Diwali 2022: Is Monday a public holiday in Kenya?
Mzee Kibor's will made public, revealing how vast wealth and millions will be distributed
Ini Edo posts new photos amid reports of welcoming a baby through surrogacy
Mathias Pogba brands Paul Pogba 'a so-called Muslim steeped in witchcraft' amid fetish claims about Kylian Mbappe
Referee behind chaos at AFCON was rushed to hospital after match
Ne-Yo speaks out after wife Crystal announced end of their 8-year marriage