Bootylicious socialite Sanchoka forced to speak after reports of leaked sex-tape went viral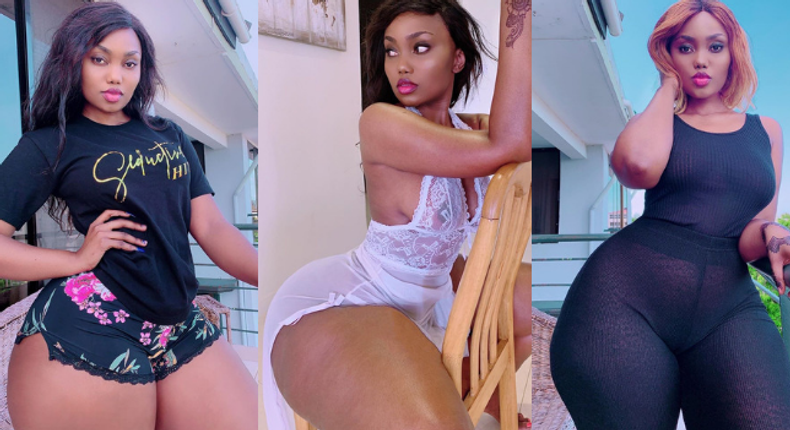 In an update on her social media pages, the curvaceous socialite, cautioned her followers not to fall for the fake videos that were being circulated, purporting to be hers.
She pointed out that it's clear the features appearing in the video don't match her body type and therefore people should refrain from associating her with the said clips.
"Sikutaka hata kuaddress hili jambo lkn nimeona linakua kwa kasi sana. Let me say this clearly hizo video mnazotumiana huko whatsapp SIO MIMI. Yani sijaumbwa hivyo. Take your time kuchunguza utajua tu. Wala hutotumia nguvu nyingi kujua hizo video sio mimi. Details kidogo tu. Kuna video nimeona mdada amelala jamani hiyo sio shape yangu. Hiyo shape ni ndogo mnooo. Mimi ningelala ivo ingekua hatari ningesambaa sana manake nimejazia zaidi. Na maziwa yangu yamejaa sio kama hayo. .Kuna video yakujimanua mimi sina mguu njiti vile 😤 huo mguu wa toothpick na hayo manyama nyama kiunoni mimi nayatoa wapi? Katako kenyewe kadogoo 😅 Katika maisha yangu Mwenyezi Mungu shahidi sijawahi kurekodi video eti nijichanue ivo mtegemee siku mtaiona hadharani HAKUNA. Bado yajayo yanafurahisha. Siterereki wala sitoyumbishwa. Kwa wanaojifariji kusema ni mimi Darlings am sorry to disappoint you it ain't me. Nimepost hili kwa ajili ya watu ninaowapenda wasijekuamini uongo," reads her statement.
On Friday, Instagram fanatics woke up to the news of Sanchoka's alleged sex-tape that had been shared in a number of Whatsapp groups and gossip sites.
Pulse Live Kenya
Unless you have been living under a rock for the last 10 years, you have come across one of the most bodacious booties on the internet, that of Sanchoka who has mastered the art of thirst-trapping.
From taking the perfect lingerie pics to propping her butt into the perfect angle for a belfie (butt selfie). Everything about her is said to be 100% real and inherited from her mum. Her hips are reportedly around 52-inch.
Pulse Live Kenya
Recommended articles
Redsan, Wyre & 9 other Kenyan artists who have lit up the reggae music scene
Alikiba's ex tells all on their short-lived relationship & breakup
Nakili Sessions: Njoki Karu's soulful serenade wows Nairobi's music lovers
Kenyan mum prays as party-loving daughter breaks norm by coming home early [Watch]
Michelle Ntalami unpacks lawsuit against Minne Kariuki, MNET TV and D&R Studios
Andrew Kibe's return won't affect Kamene Goro's stance on their reconciliation
Clever bribe that shielded Aslay from teacher's wrath after missing school for a concert
Larry Madowo shares surprise encounter with KDF soldiers at Mt Kenya peak [Video]
Content creator Purplesam appeals for help after violent robbery by fake KWS officers